Datasheet MPC8541ECVTAJD - Freescale MPU, POWERQUICC, 266 MHz, 783PBGA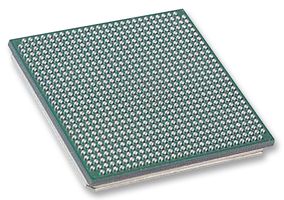 Part Number: MPC8541ECVTAJD
Detailed Description
Manufacturer: Freescale
Description: MPU, POWERQUICC, 266 MHz, 783PBGA

Download Data Sheet
Docket:
Freescale Semiconductor
Technical Data
MPC8541EEC Rev. 4.2, 1/2008
MPC8541E PowerQUICCTM III Integrated Communications Processor Hardware Specification
The MPC8541E integrates a PowerPCTM processor core built on Power ArchitectureTM technology with system logic required for networking, telecommunications, and wireless infrastructure applications. The MPC8541E is a member of the PowerQUICCTM III family of devices that combine system-level support for industry-standard interfaces with processors that implement the embedded category of the Power Architecture technology. For functional characteristics of the processor, refer to the MPC8555E PowerQUICCTM III Integrated Communications Processor Reference Manual. To locate any published errata or updates for this document refer to http://www.freescale.com or contact your Freescale sales office.
Specifications:
CPU Speed: 533 MHz
Cache on Chip L1/L2 Memory: 64 Kb
Clock Frequency: 266 MHz
Core Size: 32 bit
Frequency: 533 MHz
Interface: I2C, SPI, UART
Number of Bits: 32
Number of Pins: 783
Operating Temperature Range: -40°C to +105°C
Package / Case: PBGA
Program Memory Size: 64 Kb
SVHC: No SVHC (15-Dec-2010)
Series: PowerQUICC III
Supply Voltage Range: 1.14 V to 1.26 V
Termination Type: SMD
RoHS: Y-Ex
RadioLocman on the Social Web: