Datasheet LTC6702CDC - Linear Technology IC, COMPARATOR, LV, UP, DUAL, 8DFN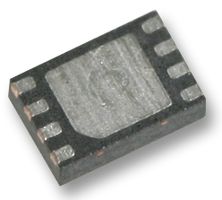 Part Number: LTC6702CDC
Detailed Description
Manufacturer: Linear Technology
Description: IC, COMPARATOR, LV, UP, DUAL, 8DFN

Download Data Sheet
Docket:
LTC6702 Tiny Micropower, Low Voltage Dual Comparators FEATURES
n n n n n n n
DESCRIPTION
The LTC®6702 is an extremely small dual comparator designed to maximize battery life while providing both speed and low voltage operation in applications where board space is a premium. These comparators operate on supplies between 1.7V and 5.5V, and have a maximum guaranteed propagation delay of 500ns while drawing only 30A maximum quiescent current. Internal hysteresis desensitizes the LTC6702 to input noise and makes it easy to use, even with slow moving signals. CMOS inputs allow the use of large source impedances. The LTC6702 is available in the 8-pin SOT-23 and the tiny 2mm Ч 2mm DFN package.
L, LT, LTC and LTM are registered trademarks of Linear Technology Corporation. All other trademarks are the property of their respective owners.
Specifications:
Base Number: 6702
Comparator Type: High Speed
Mounting Type: SMD
Number of Comparators: 2
Number of Pins: 8
Operating Temperature Range: 0°C to +70°C
Output Compatibility: CMOS, TTL
Output Type: CMOS, TTL
Package / Case: DFN
Response Time: 320 ns
SVHC: No SVHC (19-Dec-2011)
Supply Current: 30 µA
Supply Voltage Range: 1.7 V to 5.5 V
RoHS: Yes