Datasheet ULN2803AFWG - Toshiba DARLINGTON ARRAY 8NPN, SMD, 2803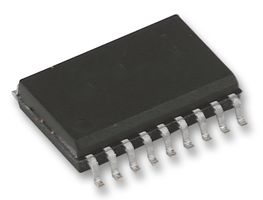 Part Number: ULN2803AFWG
Detailed Description
Manufacturer: Toshiba
Description: DARLINGTON ARRAY 8NPN, SMD, 2803

Download Data Sheet
Docket:
ULN2803,04APG/AFWG
TOSHIBA Bipolar Digital Integrated Circuit Silicon Monolithic
ULN2803APG,ULN2803AFWG,ULN2804APG,ULN2804AFWG (Manufactured by Toshiba Malaysia)
8ch Darlington Sink Driver
The ULN2803APG / AFWG Series are high-voltage, high-current darlington drivers comprised of eight NPN darlington pairs.
All units feature integral clamp diodes for switching inductive loads. Applications include relay, hammer, lamp and display (LED) drivers.
Specifications:
Base Number: 2803
Collector Emitter Voltage V(br)ceo: 50 V
Current Ic Continuous a Max: 500 mA
DC Current Gain: 1000
IC Generic Number: 2803
Input Type: Logic
Input Voltage Max: 30 V
Input Voltage Min: 500 mV
Logic Function Number: 2803
Module Configuration: Eight
Mounting Type: SMD
Number of Channels: 8
Number of Pins: 18
Number of Transistors: 8
Operating Temperature Range: -40°C to +85°C
Output Current Max: 500 mA
Output Voltage Max: 50 V
Package / Case: SOIC
Power Dissipation Pd: 480 mW
Transistor Case Style: SOIC
Transistor Polarity: NPN
Transistor Type: Power Darlington
RoHS: Yes