Digilent chipKIT Motor Shield (TDGL020)
The chipKIT Motor Shield is an expansion board for use with the chipKIT Uno32 and chipKIT uC32.
Prices
Detailed Description
It provides additional circuitry and connectors for the Uno32 and uC32 to drive various motors types.
The chipKIT Motor Shield is designed to drive DC motors, servo motors, and stepper motors. It also provides additional I/O via an I2C I/O extender.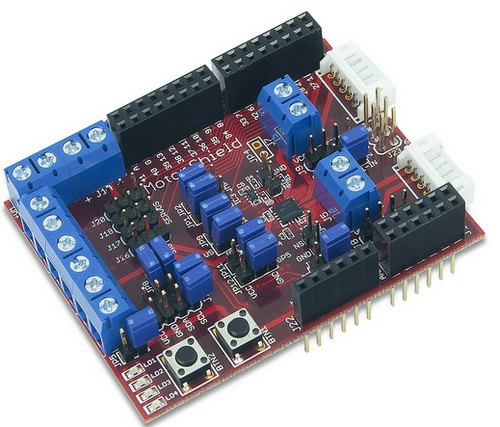 Features include:
2 DC motor driver channels, accessible with either a JST 6-pin connector or a terminal block
2 DC motor encoder input signals for each DC motor channel
4 servo motor channels I2C General purpose I/O expander with 4 LEDs 2 push buttons and 2 user settable jumpers
1 4-wire unipolar stepper motor channel
Standard chipKIT Shield connectors
Functional Description

The chipKIT Motor Shield is designed to be used with the chipKIT Uno32 or chipKIT uC32 board. When used with these boards, the microcontroller and shield provide the necessary supporting hardware and connectors to control most types of small motors. The rest of this document will only reference the Uno32; however, the shield can also be used with the chipKIT uC32.
chipKIT Motor Control Shield Schematic Diagram
Main Features of Kit or Board
Parameter
Value
Base component
Microchip
Core
PIC32MX
Category, bit
32-bit
Supported families
PIC32MX
Board peripherals

I/O pins
I2C interface
motor driver
user buttons
user LEDs
Expansion Board
Other Names:
chipKIT Motor Shield TDGL020, chipKIT Motor Shield TDGL020