The Renesas Promotion Board (YRPBRX111) is a unique and cost-effective evaluation platform designed to facilitate the evaluation of Renesas' RX111 microcontrollers (MCUs) in a wide variety of applications requiring operation at very low power levels with high levels of performance.
Prices
Detailed Description
The RX111 RPB comes with a number of sample applications, Graphic Code generator, a powerful Eclipse based IDE and includes a low-power demo with a PC graphical user interface (GUI) to allow developers to measure power consumption of the target RX111 in each of its low-power mode.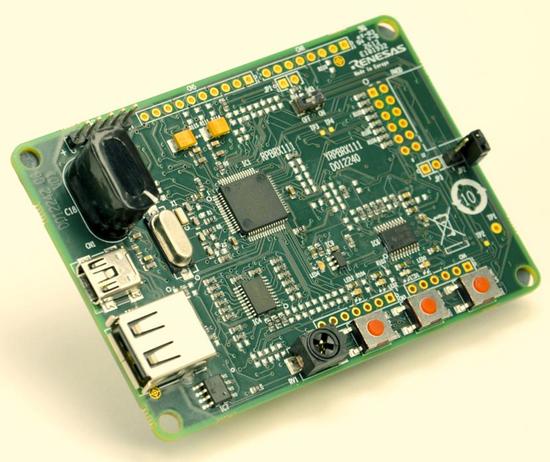 The new RPB includes a Segger J-Link on-chip debug function. It offers Host USB, Peripheral USB, PMOD, Energy Harvesting connectors as well as a Supercap to allow continued operation when the power is removed.
Features:
RX111 target board with integrated power measurement
Graphical user interface for the power measurement system
Free of charge host and peripheral USB sample code
Low-power demo application
Low Power USB Host/USB memory Stick file copy demo application
PMOD connector
Energy Harvesting connector
Future Application Header
The new e2 studio Integrated Development Environment
Renesas C/C++ Compiler with 128K code limited after 60days of use
Graphical Code Generator (Applilet)
Design Hardware and Software Documentation included
Example projects include
MCU power measurement
A custom design power measurement circuit has been implemented on the RPBRX111. This enables the user to quickly switch the Microcontroller in various low power modes and visualize power consumption directly in the provided windows GUI of your PC.
For additional reference it is also possible to measure current measurement directly on the board by connecting an external ammeter.
Package Content
YRPBRX111 promotion board
USB Type A / Mini-B cable
Screwdriver to adjust the potentiometer voltage
PMOD connector
DVD containing all the software, tools, and documentation needed to quickly start evaluating the product: evaluating the product:

Demonstration and Evaluation GUI
e2 studio IDE for RX and Renesas C/C++ compiler
USB interface driver for GUI and user communication
Debugging and Programming Sample code and documentation