The VM800B development modules offer a hi-quality display system in an elegantly designed, form-fitted bezel that provides a fitted display and component board in a rugged, plastic enclosure. Offered in black or pearl colors, this display sub-system provides the engineer a low priced option which can shorten development time while enabling a production finished look. These FTDI Basic modules are designed to control 3.5", 4.3" or 5" TFT displays.
Prices
Detailed Description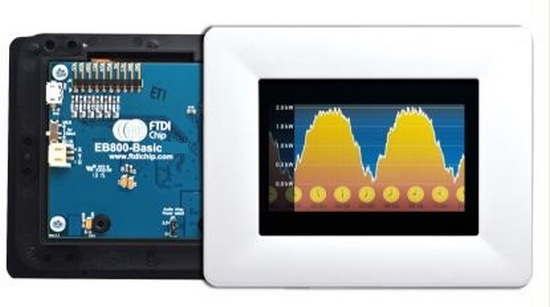 Included in the module is a speaker for audio output and a 0.1" pitch connector socket for interfacing to the SPI interface of the system host MCU. There are 5 power configuration methods including a mini-USB socket and a 2 pin DC connector.
VM800B Modules:
The VM800B utilises the FTDI FT800 Embedded Video Engine, EVE. Graphic, audio and touch features of the FT800 chip can be accessed with the VM800B. For a full list of the FT800's features please see the FT800 datasheet.
FT800 Key Hardware Features
Single chip for Display, Audio and Touch control
Up to 512 x 512 pixel resolution
262K colours (6 Red, 6 Green, 6 Blue)
Anti-Aliasing
2-bit colour dither
Programmable HSYNC/VSYNC timing
Backlight control
Resistive touch sense
Objective oriented programming approach
Embedded widgets to assist with creating complex images
Mono audio output
64 in-built polyphonic tones
Decode for mono 8-bit linear PCM, 4-bit ADPCM and μ-Law coding format at sampling frequencies from 8kHz to 48kHz
SPI/I2C interface to host MCU
1.8V to 3.3V IO levels to host MCU
3V3 levels on RGB pins
The VM800B modules has the following features:
Ready to use LCD module.
Integrated with resistive touch screen LCD panel
On board LCD backlight LED Driver
On board audio power amplifier and micro speaker
Flexible power supply. Powering the VM800B using either a 2.1mm power jack , SPI master connector or via USB Micro-B port
5 V tolerant buffers when used with a 5V SPI Master
Precision fitted bezel in black(-BK) or pearl (-PL)
The VM800B module is intended for direct use into existing applications that require a display. This module is suitable for interfacing with an external microcontroller that has a SPI Master channel. The VM800B module is available in multiple options: 3.5, 4.3 or 5.0 inch display options.
The main functions of the VM800B are as follows:
Micro USB connector
SPI connector
2-pin connector for power supply
3.3V regulator: Takes 5V input and outputs 3.3V for on-board circuits
LCD touch screen panel
5V tolerant buffers between the SPI master interface and the Slave interface of the FT800

SPI timing requirements can be found in the FT800 datasheet. The on board level converter buffers introduce additional delay. The actual maximum SPI clock frequency depends on the host system timing and connection cable length to the VM800B PCB.

3 stage audio filter and power amplifier
8Ω speaker
Audio line out option
Precision fitted bezel
VM800B User Guide and Schematic
Other Names:
VM800B35APL, VM800B35A PL