Detailed Description
Evaluation Kit for CBC34123 using NXP PCF2123 SPI bus RTC with integrated 5uAh (Lifecycle Capacity =2.5mAh) rechargeable solid state battery with integrated power management in a 5 mm x 5 mm x 1.4 mm 16 pin square QFN package.
CBC-EVAL-12-34123 is a demonstration kit featuring the Cymbet CBC34123 EnerChip RTC - an integrated surface mount device combining an NXP PCF2123 Real-Time Clock (RTC), power management circuit, and solid state rechargeable EnerChip providing 30 hours of backup power to the RTC. The kit demonstrates just how compact an RTC with integrated backup power can be using the low profile surface mount device from Cymbet. The combined solution occupies only 0.25 cm2 of board space.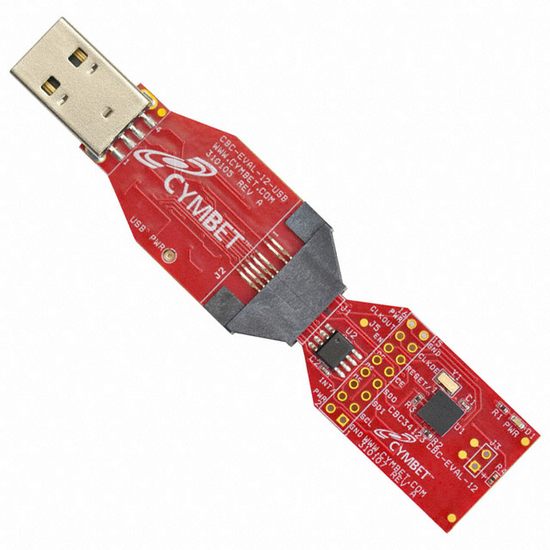 CBC-EVAL-12-34123 has the following elements:
Low power RTC with SPI-interface bus
Solid state rechargeable energy storage for real-time clock backup power
Power fail detect with automatic switchover from main power to integrated backup power source
Integrated battery management that controls battery charging and discharge cutoff, ensuring maximum service life of the on-board storage cell
USB connector for easy demonstration and application development on personal computer
Input/output access to board for easy connection to external microcontroller
EVAL-12 Graphical User Interface
The CBC-EVAL-12-34123 includes a PC-based software application that communicates with the USB stick. Users can set the time of day, date, and countdown timer values to experiment with RTC power-back-up. The application also allows the user access to the RTC registers for viewing and modification. The software works with Microsoft Windows XP, Windows 7, and Windows 8 operating systems. Once the EVAL-12 USB stick is inserted into the PC, the Connect button is clicked in the GUI to establish communication over the USB port. The entire USB stick or just the CBC34123 Tab Board can then be removed from the PC and the RTC will be powered by the EnerChip rechargeable solid state battery that is integrated within the CBC34123 5mm x 5mm QFN package on the CBC34123 Tab Board.
CBC-EVAL-12-34123 Evaluation Kit User Guide and Schematic
Other Names:
CBCEVAL1234123, CBC EVAL 12 34123