CSRmesh is a protocol running over Bluetooth Smart that enables messages to be relayed over multiple Bluetooth Smart devices, allowing for comprehensive home automation connectivity solutions (learn more here). CSRmesh Development Kits introduce a simplified yet comprehensive development platform for product designers who want to rapidly prototype networking of Bluetooth Smart products using the CSRmesh protocol.
Prices
Detailed Description
The Bluetooth Smart solution allows developers to network individual or groups of devices, such as a smartphone or tablet with lighting, heating or appliances. Included within the CSRmesh Development Kit is the CSR1010 IC.
Key Features
The CSRmesh Development Kit provides a complete set of tools for evaluation and software development.
Development Boards
CSR xIDE software development environment
USB programmer and interface cables
Example CSRmesh applications for the Development Board
Example host applications and source code for Smartphones, supporting

Google Android
Apple iOS*
All necessary software must be downloaded from CSR to ensure that the latest versions are available to developers. An activation code is provided with each kit that should be used to unlock access to the necessary files.
The Development boards are normally powered from 2 x AA batteries (included), but can also be run from the host USB connection.
Additional Boards can be purchased if necessary to make a larger network.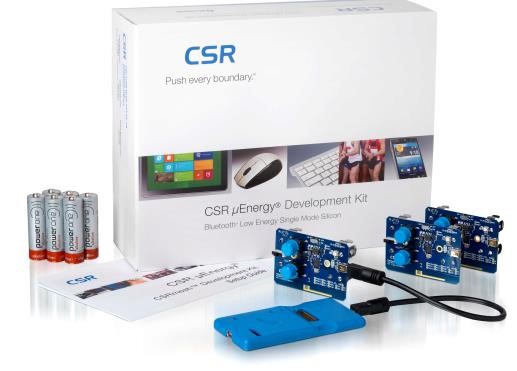 Product Details
The CSRmesh Development Board features:
CSR1010 IC with size EEPROM
PCB antenna
1x RGB LED
2x user pushbuttons
1x user slide switch
Power switch
SPI programming connector
2x AA battery holders on reverse
Pads to connect IO to external devices
The CSRmesh Development Kit contains:
Target boards (3 off)
USB-SPI programmer (1 off) and Connecting cables (2 off)
AA alkaline batteries (3 pairs)
Printed Setup Guide
Other Names:
DKCSR1010101841A, DK CSR1010 10184 1A