The PIC32 Bluetooth Starter Kit is a low-cost Bluetooth development platform featuring the PIC32MX270F256D MCU. This kit features a HCI-based Bluetooth radio, pushbuttons, Cree high-output multi-color LED, standard single-color LEDs, accelerometer, temperature sensor and GPIO for rapid development of Bluetooth Serial Port Profile (SPP), USB and General Purpose applications.
Prices
Detailed Description
The Starter kit offers an Android App, Demo code and Serial Port Profile stack for free to get you started.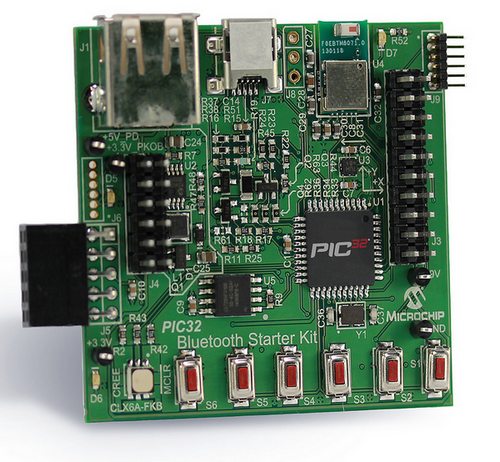 The Free Android App & Demo showcases:
Color Mixing of Cree High Output Multi Color LED
Temperature Display
Features
PIC32MX270F256D for Central Processing
Bluetooth HCI module
Cree high output multi-color LED
Analog 3-axis accelerometer
Analog Temp Sensor
3 standard single color LEDs for display
5 Push Buttons for user defined inputs
On Board Debugging