Development Module FTDI MM900EV3A
| | |
| --- | --- |
| Manufacturer | FTDI |
| Part Number | MM900EV3A |
MM900EV3A Development Module
Prices
Detailed Description
The MM900EV development modules provide full hardware feature support for the FT90x MCU in a variety of form factors.The modules also provide a connector for accessing external plug-in hardware over an SPI interface.
Targeted applications for the module include home security, HMI and automation systems,USB capability products, embedded multimedia applications and a range of other industrial control systems. The MM900EV2A comes equipped with a rear-facing CMOS camera.
An RJ45 connector allows 10/100Mbps Ethernet data transfer and extra memory capacity can be made available via the Micro SD card socket. The standard USB-A port (which provides the USB hosting) is complemented by a Micro-B USB port (which serves as a USB device port and a power source connection). A 40-way expansion connector enables access to the IC's complete complement of IO, while a Micro-MaTch 2×5 female socket facilitates the debugging/downloading process. An additional two 8-pin 2.54mm pitch connectors and 16-pin 0.5mm pitch FFC/FPC connector permit interfacing with FT800/FT810 EVE display modules.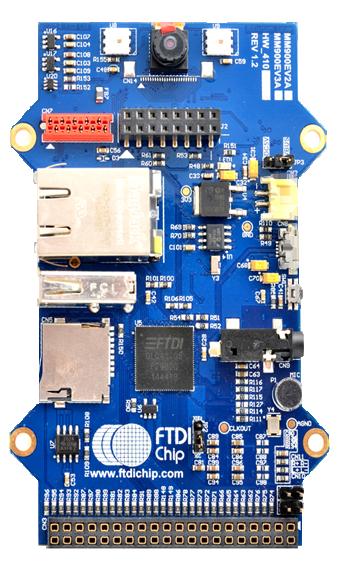 Key Features:
FT90x 100-pin QFN package MCU.
RJ45 with built in magnetics for 10/100Mbps Ethernet transfer.
Standard USB-A connector to support USB device connection.
Micro-B USB for connecting to a USB host or providing a power supply over USB.
In built audio codec for stereo audio output with 3.5mm headphone jack and mono microphone input.
Debugger interface for FT90x flash programming and EFUSE configuration.
+5V alternative power supply DC connector.
2×5 pins 1.27mm pitch female Micro-MaTch connector for software download.
2×20 pins 2.54mm pitch female header support for external feature expansions.
24 pins 0.5mm pitch camera connector and two RGB LEDs (MM900EV2A/3A modules).
MicroSD card socket supporting SD3.0 specification.
2×8 pins 2.54mm pitch dual entry female header and 16 pins 0.5mm pitch FFC/FPC connectors for SPI master to support LCD display modules.
Rear-facing CMOS camera.
Main Features of Kit or Board
Parameter
Value
Base component
FTDI
Core
RISC
Category, bit
32-bit
Supported families
FT800-EVE
Board peripherals

RS-232 driver
I/O pins
I2C interface
I2S
SPI
1-Wire interface
USB
USB-device
USB-Host
Ethernet
JTAG/BDM
SDIO/SD/MMC
audio in/out
video in/out
user buttons
user LEDs
Power Management
Expansion Board