Development Module FTDI UMFT51AA
| | |
| --- | --- |
| Manufacturer | FTDI |
| Part Number | UMFT51AA |
The UMFT51AA is a development module for FTDI's FT51AQ, one of the devices from FTDI's range of microcontrollers with USB interface bridging features integrated.
Prices

Detailed Description
FT51A is a MCU series which includes the following features:USB client and USB hub interfaces, 8051 core, 8-bit ADC, UART, SPI, I2C, 245FIFO and PWM.
The UMFT51AA is a module which is designed to plug into a standard 0.6" wide 40 pin DIP socket.
The UMFT51AA is built with a FT51AQ; many of the features of the FT51AQ can be utilized with this module.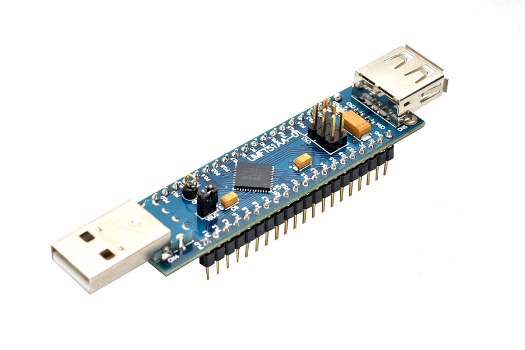 FT51A Features:
8051-compatible core running at a maximum frequency of 48 MHz
8051 peripheral set
16 kB program/shadow memory
True Zero Wait States operation up to 48 MHz
FT12 series compatible USB2.0 Full-Speed/Low-Speed peripheral controller with Battery Charger Detection (BCD)
USB downstream port
Enhanced UART with transfer rates from 300 baud to 3M Baud
Integrated hardware debugger
PWM Controller
I2C master/slave controller
SPI master/slave controller
4 extra timers plus watchdog function
Integrated clock generation, no external crystal required.
16 Analog IO Cells for ADC functions
Up to 16 Digial IO
USB DFU Bootloader
Integrated power-on-reset circuit
+5 V single supply operation
Internal 3.3 V/1.8 V LDO regulators
Low operating and suspend current 20 mA (active) and 150 uA (suspend)
In addition to the features of the FT51A, the UMFT51AA has the following features:
PCB assembly module is designed to fit a standard 15.24 mm (0.6") wide 40 pin DIP socket. Pins are on a 2.54mm (0.1") pitch.This module is a drop in replacement for an 8051 microcontroller.
An on board USB type A socket and plug allow modules to be connected to a PC via a standard A extension cable or directly. This module is also capable of cascading several modules by utilizing the USB hub feature.
Debugger interface header used for debugging and programming the FT51AQ. Designed for operation with the FTPD-1 programmer/debugger module.
Onboard jumper for configuring the FT51AA to be in selfpowered or USB powered modes.
User Guide and Schematic Diagram
Main Features of Kit or Board
Parameter
Value
Base component
FTDI
Core
8051
Category, bit
8-bit
Supported families
FT51A
Board peripherals

I/O pins
I2C interface
SPI
USB
USB-device
USB-Host
analog inputs