Microchip PIC32MK GP Development Kit (DM320106)
The PIC32MK GP Development Kit - DM320106 - offers a low cost solution for developers looking to build projects with the PIC32MK series of devices, featuring a rich assortment of CAN, USB, ADC and GPIO type inputs.
Prices

Detailed Description
This board also includes a Soloman Systec SSD1963 graphics driver and 30-Pin connector to enable graphics applications with available LCD panels.
With class-leading connectivity integration, the PIC32MK devices have up to four independent CAN 2.0 ports as well as six Universal Asynchronous Receiver/Transmitter (UART) modules, Local Interconnect Network (LIN) 1.2 and six Serial Peripheral Interface (SPI) or Inter-IC Sound (I2S) modules. Additionally, two complete full-speed USB modules are included on select devices enabling simultaneous USB host and USB device to be active at the same time. A single MCU can be used to communicate to multiple bus protocols for reduced design complexity and cost, making PIC32MK devices ideal for dual-USB applications such as digital audio or CAN-based implementations in the automotive and industrial markets.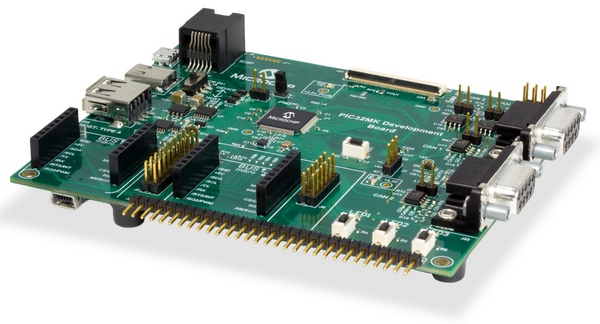 The PIC32MK General Purpose (GP) Development Board provides a low-cost method for the development and testing of CAN, USB, and other applications with PIC32MK GP devices.
Features of the PIC32MK General Purpose (GP) Development Board include:
PIC32MK1024GPE-100: MIPS® MCU, 120MHz, DSP, FPU, 1MB Flash, 256K SRAM
USB ports with Type-A, micro-B, and Type-C connectors
4-channel CAN Support through two DB9 connectors and two pin-headers
Dual mikroBUS Click headers
Solomon Systech SSD1963 Embedded Display SRAM LCD Controller with 50-Pin connector
30-pin general purpose header
On-board debugger or programmer interface (through PKOB, REAL ICE3, and MPLAB ICD3)
This evaluation kit includes:
PIC32MK GP Development Board
Type-A to micro-B USB cable
PIC32MK GP Development Board Schematic Diagram
Main Features of Kit or Board
Parameter
Value
Base component
Microchip
Core
MIPS32 microAptiv
Category, bit
32-bit
Supported families
Board peripherals

I/O pins
I2S
SPI
USB
USB-device
USB-Host
CAN interface
LIN interface
ISP
analog inputs
audio in/out
user buttons
user LEDs
Expansion Board