Microchip Curiosity PIC32MZEF Development Board (DM320104)
The Curiosity PIC32 MZ EF Development Board is a fully integrated 32-bit development platform featuring the high performance PIC32MZ EF Series (PIC32MZ2048EFM) that has a 2MB Flash, 512KB RAM, integrated FPU, Crypto accelerator and excellent connectivity options.
Prices
Buy DM320104 on RadioLocman.Price
Detailed Description
The Curiosity Development Board includes an integrated programmer/debugger ,an on board Wi-Fi-N module MRF24WN0MA-I/RM100 and is fully integrated with Microchip's MPLAB X IDE.

Each board provides two MikroBus expansion sockets from MicroElektronika and a Microchip X32 header to enable customers seeking accelerated application prototype development.
Boards are fully integrated into PIC32's powerful software framework, MPLAB Harmony that a provides flexible and modular interface to application development , a rich set of inter-operable software stack (TCP-IP,USB) and easy to use features.
X32 Boards compatible with Curiosity Board are: PIC32 Audio Codec Daughter Card - AK4642EN (AC320100)
The boards and ecosystem have been designed to provide an excellent out of the box experience. Customers would be able to download and run example applications /projects instantly on the boards without the need to install the entire ecosystem. The demos have been developed to showcase PIC32 MCU features and application development ecosystem.
The board offers expansion capabilities making it an excellent choice for a rapid prototyping board in Connectivity, IOT and general purpose applications.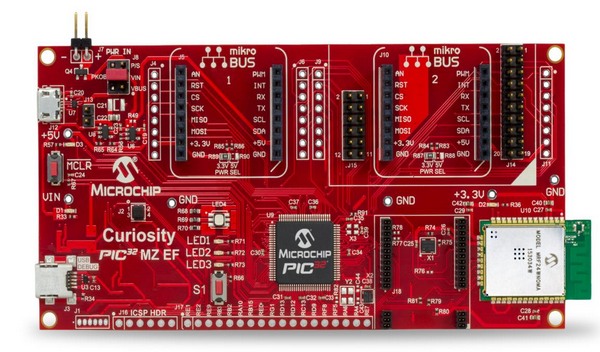 Features
PIC32MZ2048EFM100 32-bit microcontroller with 2MB Flash, 512KB RAM, integrated FPU ,Crypto accelerator and excellent connectivity options.
X32 header for audio I/O using Microchip audio daughter boards

PIC32 Audio Codec Daughter Card - AK4642EN (AC320100)

On Board WI-FI N Module, MRF24WN0MA, 2.4 GHz IEEE 802.11n compliant wireless module
Header for flexible Ethernet PHY
Compatible with ETHERNET PHY DAUGHTER BOARD AC320004-3

The Microchip LAN8720A PHY Daughter Board is populated with a small footprint RMII 10/100 Ethernet transceiver (LAN8720A).

GPIO expansion header
Debug USB connector for programming/debugging
Target USB connector for PIC32 USB connectivity (Device/Host mode).
Two mikroBUS click sockets to expand functionality using MikroElektronika Click Adapter Boards
Header for external 5V input .
On-Board Debugger.
ICSP header for external debugger, such as MPLAB REAL ICE or MPLAB ICD 3
Three user LEDs , One RGB LED.
One User and Reset Button.
Package Contents
Curiosity PIC32MZEF Development Board
802.11B/G/N MRF24WN0MA-I/RM100 Module with integrated antenna mounted on board
Developmnebt Board User Guide and Schematic Diagram
Main Features of Kit or Board
Parameter
Value
Base component
Microchip
Core
PIC32MZ
Category, bit
32-bit
Supported families
PIC32MZ
Board peripherals

I/O pins
I2C interface
I2S
SPI
USB
USB-device
USB-Host
ISP
Wi-Fi
temperature sensor
user buttons
user LEDs
Expansion Board

You may have to

register

before you can post comments and get full access to forum.