Evaluation Platform Microchip SAMA5D2 Xplained Ultra (ATSAMA5D2C-XULT)
| | |
| --- | --- |
| Manufacturer | Microchip |
| Part Number | ATSAMA5D2C-XULT |
The SAMA5D2 Xplained Ultra is a fast prototyping and evaluation platform for the SAMA5D2 series of microprocessors (MPUs).
Prices
Detailed Description
The board includes eMMC and DDR3 memories as well as a rich set of connectivity options. Connectors and expansion headers allows for easy customization and quick access to leading edge embedded features such as the Class D amplifier or the capacitive touch controller (PTC). A Linux distribution and software package allows you to easily get started with your development.
The SAMA5D2 series is a high-performance, ultra-low-power ARM Cortex-A5 processor-based MPU. The Cortex-A5 runs up to 500MHz and features the ARM NEON SIMD engine, a 128KB L2 cache and a floating-point unit. It supports multiple memories, including DDR3, LPDDR3 and QSPI Flash. It integrates powerful peripherals for connectivity: EMAC, up to 3 HS USB ports, up to 2 CAN ports, up to 2 SDIO/SD/MMC, up to 10 UARTs; and for user interface applications: TFT LCD controller, touch controllers, class D amplifier, audio PLL, and a CMOS sensor (camera) interface.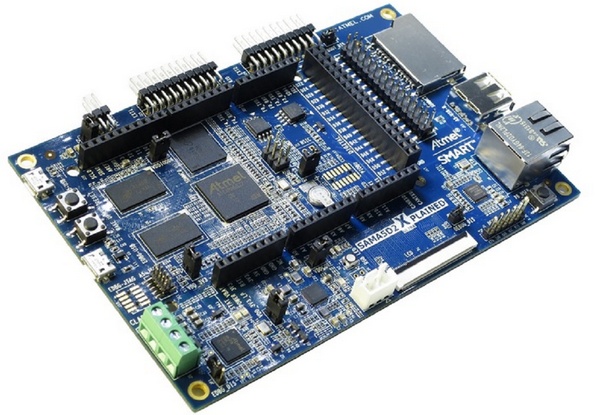 Features
Based on the ATSAMA5D27C-CU:

DDR3/DDR3L/LPDDR3 support
Embedded audio subsystem
0.8mm ball pitch package reduces PCB design complexity
Simple power management scheme
Ultra-Low Power Consumption:

Ultra-low-power architecture for extensive battery life
<200uA retention mode with fast wake-up
5uA in backup mode
New backup mode with DDR self-refresh

State-of-the-Art Security:

Hardware encryption engine
Tamper pins and secure key storage
Active die shield and environmental monitors (D23 & D28 only)
Secure boot

×2 DDR3L 2Gb (16-bit data access)
×1 eMMC 4GB
×1 Serial data QSPI Flash
×1 Serial EEPROM + Ethernet Mac address
×1 Ethernet 10/100 Port featuring the KSZ8081 Ethernet PHY
×2 USB Ports
×1 HSIC (Consider using with EVB-LAN7850 for HSIC to Gigabit Ethernet)
Arduino DUE, 3.3v Uno R2 & R3, and Mega R3 shield compatible
6-layer PCB
Evaluation Board User Guide and Schematic Diagram
Main Features of Kit or Board
Parameter
Value
Base component
Microchip
Core
Cortex-A5
Category, bit
32-bit
Supported families
Cortex-A5
Board peripherals

RS-232 driver
I/O pins
I2C interface
SPI
TWI
USB
USB-device
USB-Host
CAN interface
Ethernet
JTAG/BDM
SDIO/SD/MMC
EEPROM
Flash
SDRAM
audio in/out
user buttons
user LEDs
Power Management
Other Names:
ATSAMA5D2CXULT, ATSAMA5D2C XULT

You may have to

register

before you can post comments and get full access to forum.