»
Devices
»
Programmers
Serial EEPROM programmer Elnec SEEprog
Main Features of Programmer
Parameter
Value
Type
Autonomous
Connection interface
LPT
Target connection
ZIF socket
Version
desktop
Supported devices

serial EEPROM
serial DataFlash
SEEprog - Serial EEPROM programmer.
Short description:
7022 supported devices by 2.69 version of SW (6. May. 2010)
small and powerful portable programmer of all 8-pins serial EEPROMs
supports interfaces IIC (24Cxx), Microwire (93Cxx), SPI (25Cxx)
supports programming LV (3.3V) EEPROM
comfortable and easy to use control program, Windows 98/Me/NT/2000/XP/2003/XPx64/Vista/7 compatible
free SW update, download from Internet
approved by CE laboratory to meet CE requirements
connection to PC - via printer port
power supply, cable and SW included
made in Slovakia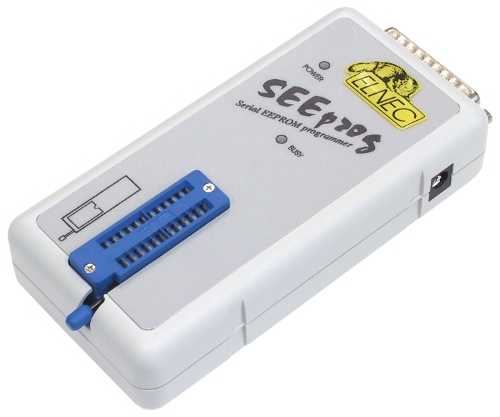 Features
SEEprog is universal programmer of all types of serial EEPROMs in 8-pin package. SEEprog enables programming EEPROMs with interface types IIC (24Cxx), Microwire (93Cxx) and SPI (25Cxx). Programmer supports programming LV EEPROMs (3.3V). The programmer is equipped by ZIF socket. The quality of programmer is completed by comfortable control program. SEEprog is computer peripheral, it is connecting to PC via standard parallel port.
Free software updates are available by download
Specifications
Socket and control of pins:

ZIF (Zero Insertion Force) DIL zocket (300mil wide)
each pin is possible to set in position Low and H/Pull-up
from each pin is possible to read
support of Low Voltage devices

Supported devices:


EEPROM I2C (24Cxxx)
EEPROM Microwire (93Cxxx)
EEPROM SPI (25Cxxx, 25LVxxx, 25Fxxx, 25Pxxx)
Configuration (EE)PROM: AT17xxx, LV series including
speciall devices (digital thermometers, ...)
You may have to

register

before you can post comments and get full access to forum.
do you have stock seeprog lpt programer? i need 1 unit, thanks you very much, best regards
RadioLocman on the Social Web: