Datasheet Central Semiconductor CMDSH2-3 TR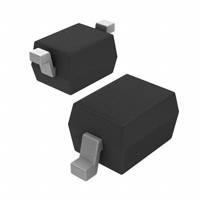 Surface mount Diode-Schottky (<1A) Single
Datasheets
Download » Datasheet

PDF, 523 Kb, File published: May 4, 2017




Docket ↓

CMDSH2-3
w w w. c e n t r a l s e m i . c o m SURFACE MOUNT SILICON
HIGH CURRENT SCHOTTKY DIODE DESCRIPTION:
The CENTRAL SEMICONDUCTOR CMDSH2-3 is a
silicon Schottky diode, manufactured in a SOD-323
surface mount package, designed for applications
requiring a low forward voltage drop. MARKING CODE: S2 SOD-323 CASE MAXIMUM RATINGS: (TA=25В°C)
Peak Repetitive Reverse Voltage
Continuous Forward Current
Peak Forward Surge Current, tp=10ms
Power Dissipation
Operating and Storage Junction Temperature
Thermal Resistance SYMBOL
VRRM
IF 30 UNITS
V 200 mA IFSM
PD 1.0 A 250 mW TJ, Tstg
О?JA -65 to +150 В°C 500 В°C/W ELECTRICAL
SYMBOL
IR
BVR CHARACTERISTICS: (TA=25В°C)
TEST CONDITIONS
VR=30V ...
Prices
Moldel Line
Series:
CMDSH2-3
(3)
Other Names:
CMDSH23 TR, CMDSH2 3 TR
RadioLocman on the Social Web: