Datasheet Intersil ISL71090SEH12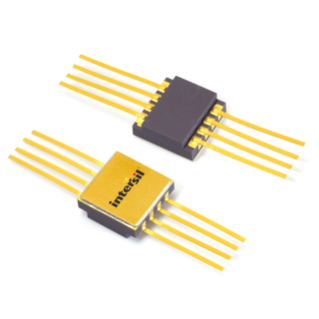 Radiation Hardened Ultra Low Noise, Precision Voltage Reference
Datasheets
Download » Datasheet

PDF, 604 Kb, Revision: 2017-11-07


ISL71090SEH12 Datasheet


Docket ↓

DATASHEET
ISL71090SEH12 FN8452
Rev 4.00
March 18, 2016 1.25V Radiation Hardened Ultra Low Noise, Precision Voltage Reference
The ISL71090SEH12 is an ultra low noise, high DC accuracy
precision voltage reference with a wide input voltage range
from 4V to 30V. The ISL71090SEH12 uses the Intersil
advanced bipolar technology to achieve 1ВµVP-P noise at 0.1Hz
with an accuracy over temperature of 0.15% and an accuracy
over radiation of 0.15%.
The ISL71090SEH12 offers a 1.25V output voltage with
10ppm/В°C temperature coefficient and also provides
excellent line and load regulation. The device is offered in an
8 Ld flatpack package. Features Reference output voltage . 1.25V В±0.05% Accuracy over temperature В±0.15% Accuracy over radiation В±0.15% Output voltage noise 1ВµVP-P typ (0.1Hz to 10Hz) Supply current 930ВµA (typ) Tempco (box method) . 10ppm/В°C max Output current capability 20mA The ISL71090SEH12 is ideal for high-end instrumentation,
data acquisition and applications requiring high DC precision
where low noise performance is critical. Line regulation . .8ppm/V Applications Operating temperature range . .-55В°C to +125В°C RH voltage regulators precision outputs Precision voltage sources for data acquisition system for
space applications Strain and pressure gauge for space applications Load regulation . 35ppm/mA Radiation environment
-High dose rate (50 to 300rad(Si)/s) . 100krad(Si)
-Low dose rate (0.01rad(Si)/s) . 100krad(Si)*
-SET/SEL/SEB 86MeVcm2/mg
*Product capability established by initial characterization. The
"EH" version is acceptance tested on a wafer-by-wafer basis to
50krad(Si) at low dose rate Electrically screened to SMD 5962-13211 Related Literature AN1847, "ISL71090SEH12, ISL71090SEH25, ...
Prices
Packaging
Parametrics
| | ISL71090SEHF12/PROTO | ISL71090SEHVF12 | ISL71090SEHVX12 |
| --- | --- | --- | --- |
| | | | |
| Class | V, /PROTO | V, /PROTO | V, /PROTO |
| DLA SMD | 5962-13211 | 5962-13211 | 5962-13211 |
| Description | Radiation Hardened Ultra Low Noise, Precision Voltage Reference | Radiation Hardened Ultra Low Noise, Precision Voltage Reference | Radiation Hardened Ultra Low Noise, Precision Voltage Reference |
| High Dose Rate (HDR) krad(Si) | 100 | 100 | 100 |
| Low Dose Rate (ELDRS) krad(Si) | 100 | 100 | 100 |
| Operating Temperature Range | -55 to 125 | -55 to 125 | -55 to 125 |
| Qualification Level | QML Class V (space) | QML Class V (space) | QML Class V (space) |
| SEL (MeV/mg/cm2) | 86 | 86 | 86 |
Eco Plan
Moldel Line
Series:
ISL71090SEH12
(3)
Manufacturer's Classification
Space & Harsh Environment > Rad Hard Analog > RH Voltage References
RadioLocman on the Social Web: