Datasheet Intersil CD4076BDMSR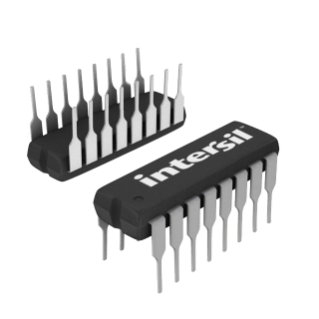 | | |
| --- | --- |
| Manufacturer | Intersil |
| Series | CD4076BMS |
| Part Number | CD4076BDMSR |
CMOS 4 -Bit D-Type Register
Datasheets
Download » Datasheet

PDF, 274 Kb, Revision: 2017-12-22


CD4076BMS Datasheet


Docket ↓

DATASHEET
CD4076BMS FN3325
Rev 0.00
December 1992 CMOS 4 -Bit D-Type Registers Features Pinout High Voltage Type (20V Rating) CD4076BMS
TOP VIEW Three State Outputs Input Disabled Without Gating the Clock OUTPUT
DISABLE Gated Output Control Lines for Enabling or Disabling
the Outputs M 1 16 VDD N 2 15 RESET Q1 3 14 DATA 1 Standardized Symmetrical Output Characteristics Q2 4 13 DATA 2 100% Tested for Quiescent Current at 20V Q3 5 12 DATA 3 Maximum Input Current of 1пЃ­A at 18V Over Full Package Temperature Range; 100nA at 18V and +25oC Noise Margin (Over Full Package/Temperature Range)
-1V at VDD = 5V
-2V at VDD = 10V
-2.5V at VDD = 15V 5V, 10V and 15V Parametric Ratings Meets All Requirements of JEDEC Tentative Standard
No. 13B, "Standard Specifications for Description of
�B' Series CMOS Devices" 6 11 DATA 4 7 10 G2 VSS 8 9 G1 DATA INPUT
DISABLE
G1 CD4076BMS types are four-bit registers consisting of D-type
flip-flops that feature three-state outputs. Data Disable inputs
are provided to control the entry of data into the flip-flops.
When both Data Disable inputs are low, data at the D inputs
are loaded into their respective flip-flops on the next positive
transition of the clock input. Output Disable inputs are also
provided. When the Output Disable inputs are both low, the
normal logic states of the four outputs are available to the
load. The outputs are disabled independently of the clock by
a high logic level at either Output Disable input, and present ...
Prices
Packaging
| | |
| --- | --- |
| Package | 16 Ld SBDIP |
| Package Index | D16.3 |
Parametrics
| | |
| --- | --- |
| Class | V |
| DLA SMD | 5962-96656 |
| Description | CMOS 4 -Bit D-Type Register |
| High Dose Rate (HDR) krad(Si) | 100 |
| Low Dose Rate (ELDRS) krad(Si) | ELDRS free |
| Operating Temperature Range | -55 to 125 |
| Qualification Level | QML Class V (space) |
| SEL (MeV/mg/cm2) | 75 |
Eco Plan
Moldel Line
Series:
CD4076BMS
(3)
Manufacturer's Classification
Space & Harsh Environment > Rad Hard Digital > RH Latches
RadioLocman on the Social Web: