Datasheet Maxim MAX5527GUA+
64-Tap, One-Time Programmable, Linear-Taper Digital Potentiometers
Datasheets
Datasheet MAX5527, MAX5528, MAX5529
PDF
,
223 Kb
, Language:
en
, File uploaded:
Jul 31, 2019
, Pages:
12
64-Tap, One-Time Programmable, Linear-Taper Digital Potentiometers
Extract from the document
Prices
Detailed Description
The MAX5527/MAX5528/MAX5529 linear-taper digital potentiometers perform the same function as mechanical potentiometers, replacing the mechanics with a simple 2-wire up/down digital interface.
These digital potentiometers provide an optional one-time programmable feature that sets the power-on reset position of the wiper. Once the wiper position is programmed, the 2-wire interface can be disabled to prevent unwanted adjustment.
The MAX5527/MAX5528/MAX5529 provide an end-to-end resistance of 100kΩ, 50kΩ, and 10kΩ, respectively. The devices feature low temperature coefficients of 35ppm/°C end-to-end and 5ppm/°C ratiometric. All devices offer 64 wiper positions and operate from a single +2.7V to +5.5V supply. An ultra-low, 0.25µA (typ) standby supply current saves power in battery-operated applications.
The MAX5527/MAX5528/MAX5529 are available in 3mm x 3mm, 8-pin TDFN and 5mm x 3mm, 8-pin µMAX® packages. Each device is guaranteed over the -40°C to +105°C temperature range.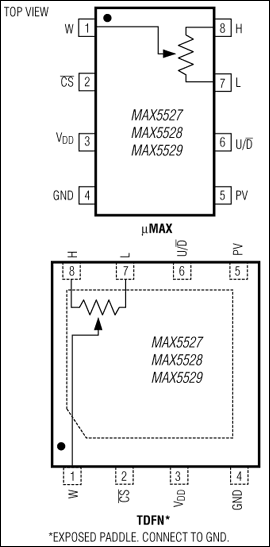 MAX5527, MAX5528, MAX5529: Pin Configurations
Other Options
Model Line
Manufacturer's Classification
Analog > Data Converters > Digital Potentiometers