Datasheet ICL761X, ICL762X, ICL763X, ICL764X (Maxim)
Manufacturer
Maxim
Description
Single/Dual/Triple/Quad Operational Amplifiers
Pages / Page
26

/

1

— Single/Dual/Triple/Quad. Operational Amplifiers. ICL761X–ICL764X. General …

File Format / Size
PDF

/

524 Kb
Document Language
english
Single/Dual/Triple/Quad. Operational Amplifiers. ICL761X–ICL764X. General Description. Features. Pin-for-Pin Second Source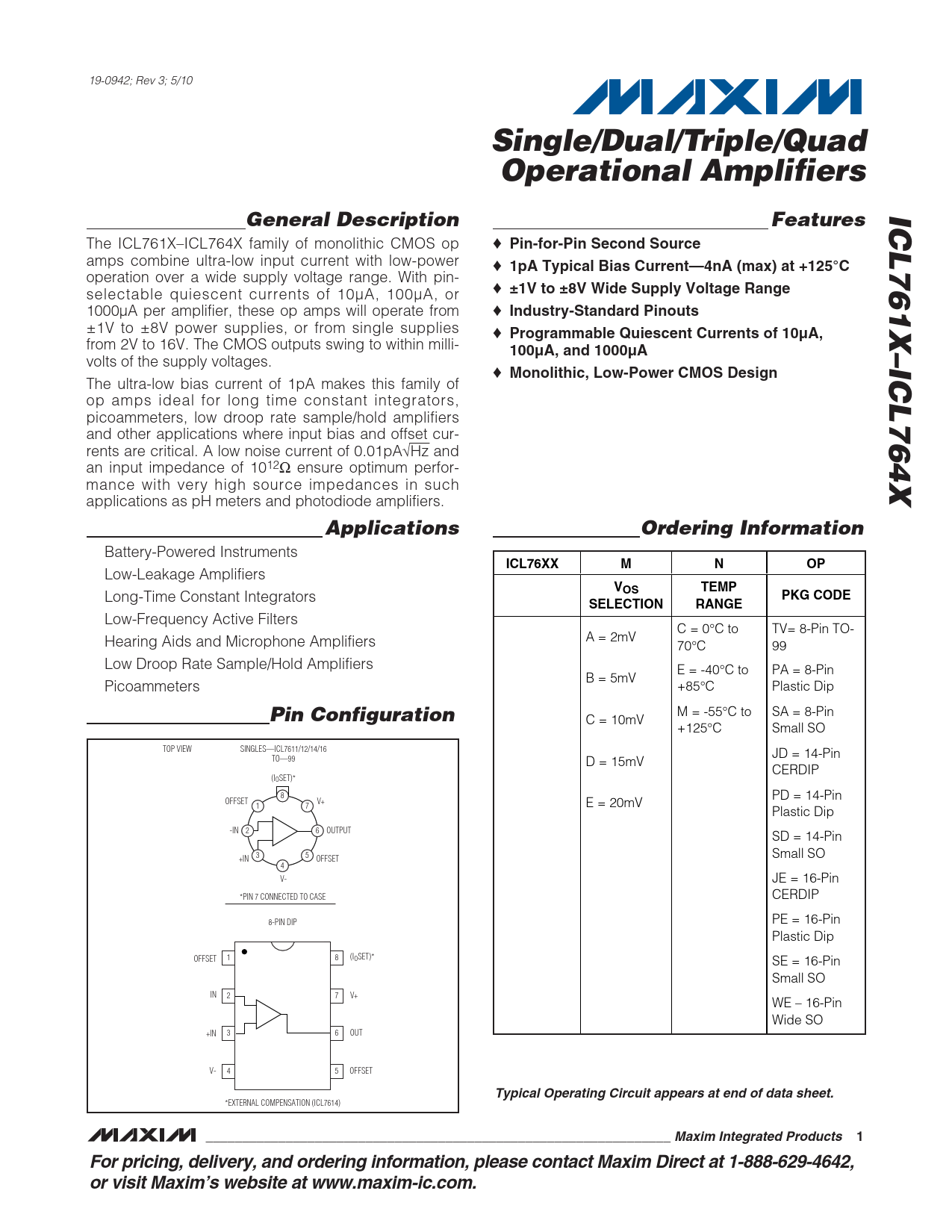 Model Line for this Datasheet
Text Version of Document
19-0942; Rev 3; 5/10
Single/Dual/Triple/Quad Operational Amplifiers ICL761X–ICL764X General Description Features
The ICL761X–ICL764X family of monolithic CMOS op o
Pin-for-Pin Second Source
amps combine ultra-low input current with low-power o
1pA Typical Bias Current—4nA (max) at +125°C
operation over a wide supply voltage range. With pin- selectable quiescent currents of 10µA, 100µA, or o
±1V to ±8V Wide Supply Voltage Range
1000µA per amplifier, these op amps will operate from o
Industry-Standard Pinouts
±1V to ±8V power supplies, or from single supplies o
Programmable Quiescent Currents of 10µA,
from 2V to 16V. The CMOS outputs swing to within milli-
100µA, and 1000µA
volts of the supply voltages. o
Monolithic, Low-Power CMOS Design
The ultra-low bias current of 1pA makes this family of op amps ideal for long time constant integrators, picoammeters, low droop rate sample/hold amplifiers and other applications where input bias and offset cur- rents are critical. A low noise current of 0.01pA√Hz and an input impedance of 1012Ω ensure optimum perfor- mance with very high source impedances in such applications as pH meters and photodiode amplifiers.
Applications Ordering Information
Battery-Powered Instruments
ICL76XX M N OP
Low-Leakage Amplifiers
VOS TEMP
Long-Time Constant Integrators
PKG CODE SELECTION RANGE
Low-Frequency Active Filters C = 0°C to TV= 8-Pin TO- Hearing Aids and Microphone Amplifiers A = 2mV 70°C 99 Low Droop Rate Sample/Hold Amplifiers E = -40°C to PA = 8-Pin B = 5mV Picoammeters +85°C Plastic Dip
Pin Configuration
M = -55°C to SA = 8-Pin C = 10mV +125°C Small SO TOP VIEW SINGLES—ICL7611/12/14/16 JD = 14-Pin TO—99 D = 15mV CERDIP (IOSET)* 8 PD = 14-Pin OFFSET V+ 1 7 E = 20mV Plastic Dip -IN 2 6 OUTPUT SD = 14-Pin 3 5 Small SO +IN OFFSET 4 V- JE = 16-Pin *PIN 7 CONNECTED TO CASE CERDIP 8-PIN DIP PE = 16-Pin Plastic Dip 1 8 (IOSET)* OFFSET SE = 16-Pin Small SO IN 2 7 V+ WE – 16-Pin Wide SO +IN 3 6 OUT V- 4 5 OFFSET
Typical Operating Circuit appears at end of data sheet.
*EXTERNAL COMPENSATION (ICL7614)
________________________________________________________________ Maxim Integrated Products 1 For pricing, delivery, and ordering information, please contact Maxim Direct at 1-888-629-4642, or visit Maxim's website at www.maxim-ic.com.