MCU board for Atmel AVR UC3A3. It features an AT32UC3A3256 and additional components demonstrating the features of the device.
The UC3-A3 Xplained features the AT32UC3A3256 device which is optimized for high speed communication and protocol conversion. The AVR device offers a Hi-Speed USB device and mini host, 256KB Flash, 128KB of high speed SRAM, external SDRAM and NAND Flash ports, dual SD card ports and a rich selection of communication ports. The UC3A3 Xplained kit features a Hi-Speed USB Port, one 64Mbit SDRAM, four LEDs, QTouch slider and button, NTC temperature sensor, analog filter, and 4 I/O expansion ports. The kit can be programmed and debugged using any AVR debugger, including the JTAGICEmkII and AVR ONE.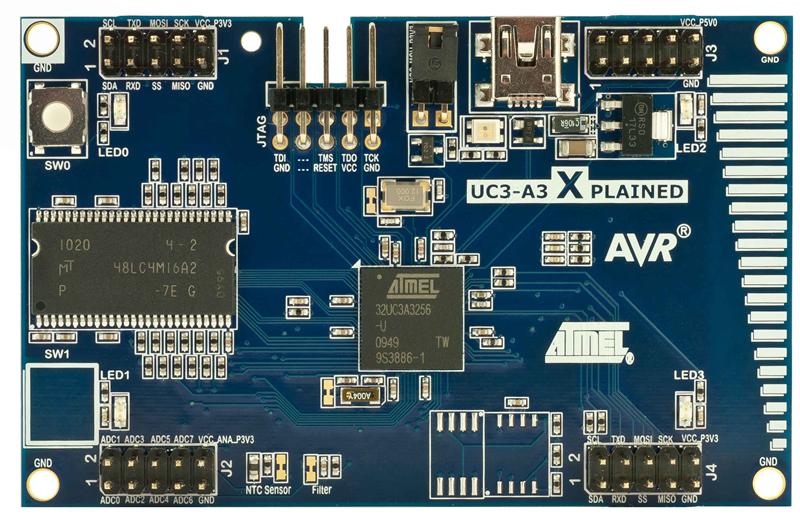 Features
Atmel AT32UC3A3256 microcontroller
64Mbit SDRAM
Analog input (to ADC)

Temperature sensor
RC filter

I/O

One mechanical button
Four LEDs
Four expansion headers

Footprints for external memory

Atmel AT45DB series DataFlashserial flash
Atmel AT25DF series industry standard serial flash

Touch

One Atmel QTouch slider
One Atmel QTouch button
The Atmel AT32UC3A3256 on the Atmel UC3-A3 XPLAINED kit is preprogrammed with a USB bootloader and a default firmware. The preprogrammed firmware in the AT32UC3A3256 is a simple demonstration of the QTouch button and QTouch slider. The kit needs an external power supply that can deliver 5V and up to 500mA. The actual current requirement for the board is much less than 500mA but in order to be able to power possible expansion boards this margin is needed. The power can be applied to the board either via the USB connector or on pin 10 on the header J3. The USB connector is the preferred input because then it is possible to connect expansion boards on top of the J3 header.