Application Note AN11336
December 2013
NXP Semiconductors' BGU8010 Global Navigation Satellite System (GNSS) LNA Evaluation Boards is designed to evaluate the performance of the GNSS LNA using:
NXP Semiconductors' BGU8010 GNSS Low Noise Amplifier
A matching inductor
A decoupling capacitor
NXP Semiconductors' BGU8010 is a low-noise amplifier for GNSS receiver applications in a plastic, leadless 6 pin, extremely thin small outline SOT1230 at 1.1 x 0.9 x 0.47mm, 0.4mm pitch. The BGU8010 features gain of 16.1 dB and a noise figure of 0.85 dB at a current consumption of 3.1 mA. The LNA components occupy a total area of approximately 4 mm2.
In this document, the application diagram, board layout, bill of materials, and typical results are given, as well as some explanations on GNSS related performance parameters like out-of-band input third-order intercept point O_IIP3, gain compression under jamming and noise under jamming.

Download Application Note AN11336 (393 Kb)
Related datasheets: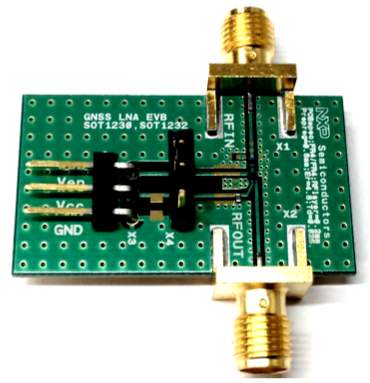 BGU8010 GNSS LNA evaluation board