IAR KickStart Kit for STM32L152VB-MM
The IAR Experiment! kit EXP-STM32F429II-MM-JL is a combination of an easy and fast way to check out features of a new device. The evaluation board is a straight forward board with all ports of the device easily accessible. The evaluation board is also equipped with a number of UEXT/UXT connectors. These connectors support three serial communication interfaces – I2C, SPI and RS232.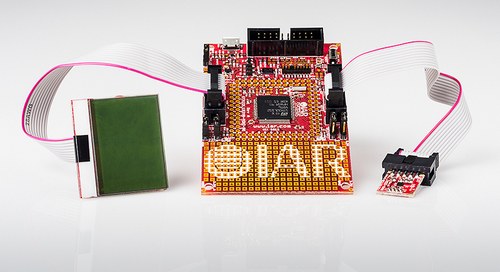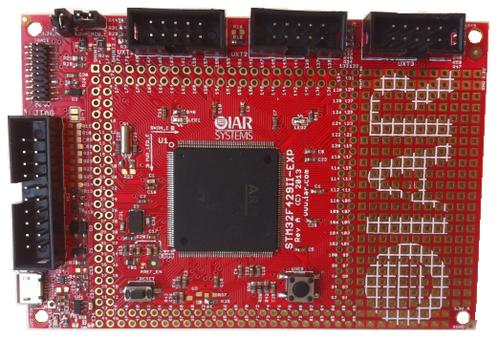 STM32F429II-EXP evaluation board
STM32F429II device
JTAG 20 pin connector
Small 19 pin trace connector
USB connector
User button
Reset button
Power LED
User LEDs
Power through: J-Link (JTAG pin 19), trace connector (pin 11&13), USB or external power supply
2 × UEXT/UXT connector
Power/current measuring points
Prototyping area
RoHS compliant
IAR KickStart Kit for STM32L152VB contains all the necessary hardware and software and allows you to design, start to develop, integrate and test your applications
STM32L152VB-EXP evaluation board
UEXT module Magnetometer
UEXT module LCD B/W
IAR J-Link Lite debug probe
IAR Embedded Workbench for ARM 32K limited edition
Example applications made for the STM32L152VB board
You can also get this kit without an IAR J-Link Lite USB-JTAG/SWD debug probe included. Part Number: EXP-STM32F429II-MM.
Included software
IAR Embedded Workbench for ARM
IAR Embedded Workbench is an Integrated Development Environment with a complete and easy-to-use set of C/C++ cross compiler and debugger tools for professional embedded applications.
30-day evaluation/32K kickstart licenses and the example projects for the evaluation board are included.
EXP-STM32F429II-MM-JL Schematic Diagram