Microsemi SmartFusion Development Kit (A2F500-DEV-KIT-2)
Main Features of Kit or Board
Parameter
Value
Base component
Microsemi
Core
FPGA
Category, bit
32-bit
Supported families
SmartFusion
Board peripherals

RS-232 driver
RS-485 driver
I/O pins
I2C interface
SPI
Ethernet
LCD
JTAG/BDM
ISP
Flash
SDRAM
potentiometers
user buttons
user LEDs
Power Management
| | |
| --- | --- |
| Manufacturer | Microsemi |
| Part Number | A2F500-DEV-KIT-2 |
Microsemi's SmartFusion Development Kit offers a full-featured development board so you can try the world's only FPGA with hard ARM Cortex-M3 and programmable analog. The device contains on-chip flash and SRAM memory, as well as additional off-chip memory on the board. The board can communicate via Ethernet and HyperTerminal. The board also contains LEDs, switches, OLED, and extensive analog experimentation, including voltage rail monitoring, current POT, temperature diodes and voltage sweeping using active bipolar prescalers (ABPS). Networking interfaces include Ethernet PHY, EtherCAT, CAN, UART, and RS485. See board details below for more information.
Prices
Detailed Description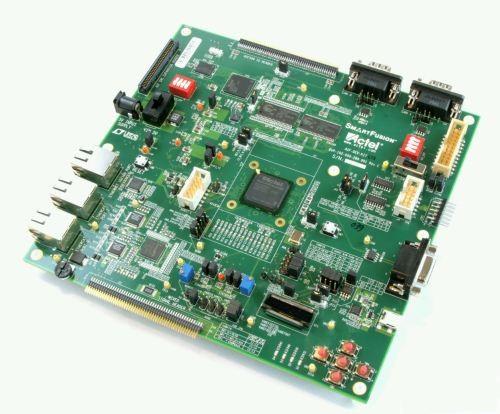 The kit is supported by Libero SoC, Microsemi's design software that includes SoftConsole Eclipse-based GNU software IDE. You can also use a free evaluation version or full licensed version of either KeilTM or IAR Systems compilers. The quickstart card and the user's guide will walk you through the options for software, downloads, and licensing.
SmartFusion Development Kit board includes:
Devices On-Board

A2F500M3G-FGG484

500,000 System FPGA gates, 512 KB flash memory, 64 KB SRAM, and additional distributed SRAM in the FPGA fabric and external memory controller
Peripherals include Ethernet, DMAs, I2Cs, UARTs, timers, ADCs, DACs and additional analog resources

Flash Memory, SRAM Memory, and PSRAM
EtherCAT ASIC

Interfaces

Programming connection for program and debug from Microsemi's design tools
RVI header for application programming and debug from either Keil or IAR Systems
Mixed-signal header for daughter card support
USB-to-UART connection to UART_0 for HyperTerminal examples
DB9 connector for RS485 UART_1
Two DB9 connectors for CAN ports
RJ45 connector for 10/100 Ethernet (on-chip MAC and external PHY)
Two RJ45 connectors for EtherCAT port connection through soft SPI core in the fabric and external PHY)
IGLOO PLUS expansion header for I/O expansion (for routing through the EMC I/Os)
A2F500 connector provides access to additional digital I/Os available in the A2F500 device
I2C headers
SPI headers
DirectC header
Quantity Description
SmartFusion development board with SmartFusion A2F500M3G-FGG484 device
Low-cost programming stick (LCPS)
5 V power supply with international adapters
2×USB 2.0 A to mini-B cable
1 Quickstart card
Other Names:
A2F500DEVKIT2, A2F500 DEV KIT 2
You may have to

register

before you can post comments and get full access to forum.
RadioLocman on the Social Web: