Detailed Description
Processor Plug-In Modules are small circuit boards to be used with the various Microchip Development Boards to evaluate various MCU families. These plug into the main processor socket of the Development Boards so that different microcontrollers can be used for prototyping, demonstration or development --quickly and easily.
The PIC32MX270F256D Bluetooth Audio PIM is designed to demonstrate the capabilities of the PIC32MX1XX/2XX family of devices using the PIC32 Bluetooth Audio Development Kit.

Note: This Plug-in Module is not compatible with the Explorer 16 Development Board.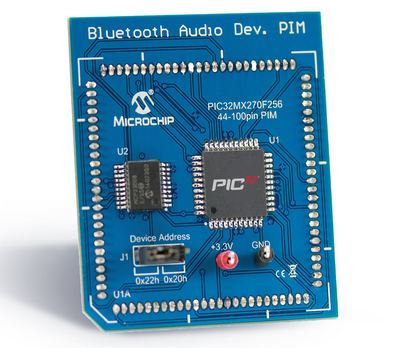 Key Features
Up to 50 MHz/83DMIPS, 32-bit RISC CPU with 0.5 mA/MHz current consumption (Typical)
Two I2S/SPI modules for Codec and serial communications
Peripheral Pin Select (PPS) functionality
Parallel Master Port (PMP) for graphics interfaces
USB 2.0-compliant full-speed device/host/OTG
Charge Time Measurement Unit (CTMU) :

Supports mTouchTM Capacitive touch buttons and sliders
Provides high-resolution time measurement (1 ns)
On-chip temperature measurement capability

Temperature Range - 40°C to 105°C
Microcontroller Features

Operating voltage range of 2.3V to 3.6V
256KB Flash memory (plus an additional 3 KB of Boot Flash)
64K SRAM memory
1.65 DMIPS/MHz (Dhrystone 2.1) performance
MIPS32 M4K core with MIPS16e mode for up to 40% smaller code size
Pin-compatible with most Microchip 16-bit devices
Multiple power management modes
Configurable WDT with on-chip Low-Power RC oscillator for reliable operation

Peripheral Features

Peripheral Pin Select (PPS) functionality
Up to 4 channels of hardware DMA with automatic data size detection
Two UART and I2C modules
Separate PLLs for CPU and USB clocks
Hardware Real-Time Clock and Calendar (RTCC)
Five 16-bit Timers/Counters (two 16-bit pairs combine to create two 32-bit timers)
Five Capture inputs and Five Compare/PWM outputs

Audio Interface Features

Data communication: I2S, LJ, RJ, DSP modes
Control interface: SPI and I2C
Master clock:

Generation of fractional clock frequencies
Can be synchronized with USB clock
Can be tuned in run-time

Analog Features

Up to 13-channel, 10-bit ADC
Three Analog Comparators
Charge Time Measurement Unit (CTMU)
PIC32MX270F256D Plug In Module (MA320014) Schematic Diagram