CONCEPT is presenting its new Plug-and-Play drivers for 3.3 and 6.5kV IGBT modules at PCIM 2010 in Nuremberg
The new high-power drivers with the designations 1SP0635 (1.2-3.3kV) and 1SP0335 (3.3-6.5kV) designed for operation with 140mm IGBT modules are now available. They are optimally suited to high-reliability applications in railway technology and industry, where the parallel connection of IGBT modules is part of the system concept.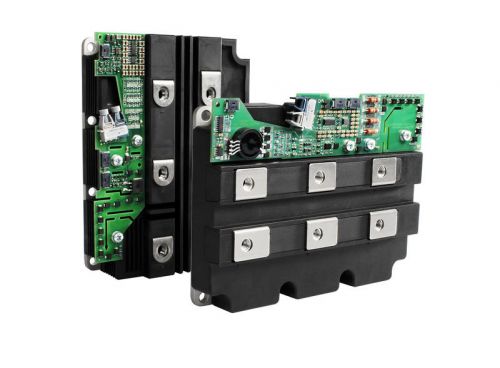 The proven SCALE-2 technology allows the driver-card area to be reduced to the dimensions of the IGBT module, thus avoiding the drivers affecting the inverter design.
The parallel connection is implemented by a master & slave principle in which the synchronisation and error management take place via a parallel connection interface that also supplies the voltage to the slave driver. The 1SP0335 needs an external DC/DC converter (ISO5125I) for this purpose, whereas the 1SP0635 has an on-board voltage supply. Up to four modules can thus be connected in parallel with optimal electrical integration and simultaneously greatly simplified mechanical construction.
The drivers offer a series of innovative features for the optimal and reliable operation of the IGBT modules. Dynamic Advanced Active Camping (DA2C) assures overvoltage protection in line with the requirements and permits a high intermediate circuit voltage when the IGBTs are turned off. The drivers are also equipped with integrated gate and supply-voltage monitoring.
The requirements to EN50124 and IEC60077 were especially considered in designing the drivers and selecting the components in order to assure reliable operation in traction applications. In conjunction with the very high MTBF thanks to the ASIC technology used, these drivers assure a highly reliable system design.
These high-voltage drivers are adapted to IGBT modules from all leading manufacturers. Samples are already available. Series use is planned for the third quarter of 2010.