TPS23861EVM-612 features the TPS23861 PSE controller supporting type 2 and high-power, four-pair PD loads.
Prices
Detailed Description
The TPS23861EVM-612 features the quad port, TPS23861, IEEE 802.3at PoE PSE controller. The EVM consists of a motherboard (TPS23861EVM-612) and daughter board (TPS23861EVM-613) containing two TPS23861 devices.The TPS23861EVM-612 provides a multi-port base platform interface for TPS23861EVM-613, MSP-EXP430G2 (LaunchPad), and USB-TO-GPIO(USB Interface Adapter).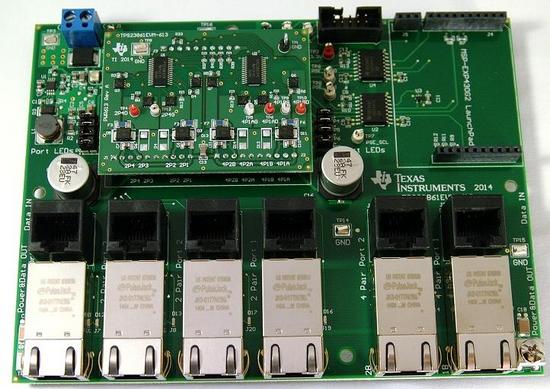 TPS23861 Features:
TPS23861 PSE devices default to auto-mode operation so no operatorinterface over I2C isrequired.
Four IEEE802.3at, Type 2 (30 W) ports with 1000BASE-T (gigabit Ethernet data pass through)
Two non-standard, high power ports with 1000BASE-T (gigabit Ethernet data pass through)
Fully certified using UNH-IOL Clause #33 PSE Conformance Test Suite
Single DC power supply input
On board 3.3-V regulator
On board I2C interface to both TPS23861PW devices from either USB-TO-GPIO or MSP-EXP430G2.
Port ON status LEDs
User test points
Application:

Ethernet switches and routers
Surveillance VDRs
High power PoE
PoE pass-through systems
Features
Motherboard/daughterboard configuration supporting 4x type 2 (30W) ports and 2×4 pair ports (60W).
TPS23861EVM-612 accepts MSP-EXP430G2 (MSP430 LaunchPad) EVM for power managing the TPS23861s. Basic power manager firmware is available for the MSP430 upon request.
TPS23861EVM-612 interface to USB-TO-GPIO and PC using PI-Commander GUI.
Default mode is Auto mode (meaning no host control is required)
Multiple PD loads available.
Kit consists:
Motherboard (TPS23861EVM-612)
Daughter board (TPS23861EVM-613
TPS23861EVM-612 User Guide and Schematic
Other Names:
TPS23861EVM612, TPS23861EVM 612