New OMAP5432 processor-based evaluation module from Texas Instruments delivers exceptional processing and graphics capabilities to high-performance industrial applications
Helping developers jumpstart their product designs, Texas Instruments Incorporated introduced its OMAP5432 processor-based evaluation module (EVM) for high-performance industrial applications. TI's OMAP5432 EVM enables quick, easy evaluation and benchmarking for applications demanding high-performance processing and graphics at low power, including human machine interface (HMI), portable data terminals (PDT), digital signage and medical monitoring end equipment.Based on the dual-1.5GHz ARM Cortex-A15 MPCore, the OMAP5432 EVM has the performance to make applications run faster than ever. At $329 USD, it is a cost-effective tool to prototype software, evaluate applications and benchmark designs. The EVM gives customers easy access to key interfaces such as Ethernet, USB 3.0, USB 2.0, HDMI, audio I/O and SATA, as well as expansion ports for multiple display and camera options. It hosts power management and thermal management frameworks, which enable fanless operation across a wide variety of applications. The tool is also equipped with a customized, companion power management integrated circuit (PMIC), the TWL6040 audio codec.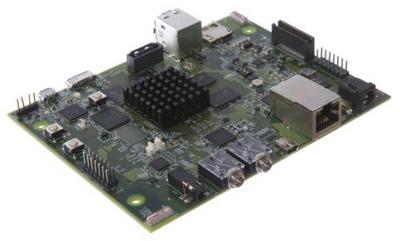 To further accelerate evaluation, TI provides customers with key high-level operating systems and real-time operating systems options such as Android, Green Hills Software, Linux and QNX, which are available for download. This broad set of operating systems provides options to customers related to real-time control, safety, robustness and multimedia frameworks to service a wide variety of applications including digital signage, medical monitoring, PDTs, HMIs and motor controls. With all of this flexibility, customers can choose a solution that best fits their needs. For more information on software availability, click here.
Moving designs from evaluation to production
After customers prototype and benchmark their designs using the OMAP5432 EVM, they can choose from multiple OMAP543x processor-based modules available through TI's hardware partners to speed product development. These are available through leading system-on-module (SoM) and single board computer (SBC) vendors, including: Embedded++ (EPP-Pico-OMAP5430 module), Phytec (phyCORE-OMAP5430 SoM module), SECO (μQ7-OMAP5 module) and Variscite (VAR-SOM-OM54 module).
In addition, TI's integrated design house (IDH) partners and TI Design Network software members are available to customize hardware designs to meet customer needs or provide software services from component level optimizations to system integration and application development.
Pricing and availability
Developers can purchase TI's OMAP5432 EVM for $329 USD