Detailed Description
The OPT3001 is an ambient light sensor (ALS) with a digital output integrated circuit. It uses a two-wire interface that works with the I2C protocol making it ideal for many applications. The OPT3001EVM is a platform for evaluating the performance of the OPT3001 under various conditions. The OPT3001EVM consists of two PCBs The first is the SM-USB-DIG board that communicates with the computer, provides power and send and receives appropriate digital signals. The second is the OPT3001 test board, which contains the OPT3001 and it's support circuitry.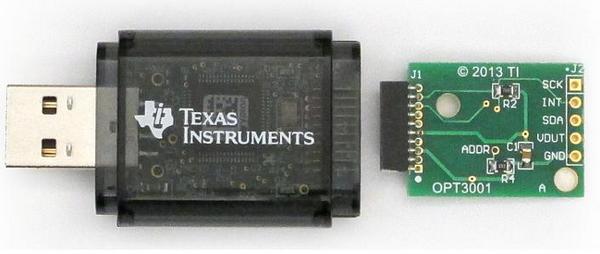 The OPT3001 is an ideal sensing device for measuring ambient light. Measurements can be made from 0.01 lux up to 83k lux without selecting full-scale ranges by using the built-in, full-scale setting feature. This capability allows light measurement over a 23-bit effective dynamic range.
The spectral response of the ambient light sensor is tightly matched to the photopic response of the human eye and has significant infrared rejection. This tightly matched response offers accurate lux readings of different spectral sources, even under dark glass.
Features
Small Form Factor
USB Hardware Interface
Intuitive GUI Software
Protective Plastic Case
100mil spaced test points for easy experimentation with external controllers
OPT3001 Features

Great Human Eye Matching: 99% IR Rejection
Automatic Full-Scale Setting Feature Simplifies Software and Ensures Proper Configuration
Measurements: 0.01 lux to 83k lux
23-Bit Effective Dynamic Range with Automatic Gain Ranging
12 Binary-Weighted Full-Scale Range Settings:
< 0.3% (typ) Matching Between Ranges
Low Operating Current: 2 µA (typ)
Operating Temperature Range: –40°C to 85°C
Wide Power-Supply Range: 1.6 V to 3.6 V
5.5-V Tolerant I/O
Flexible Interrupt System
Small-Form Factor: 2.0 mm × 2.0 mm × 0.65 mm
OPT3001EVM Kit Contents
OPT3001 test board
SM-USB-DIG board
USB extension cable
CR-ROM with OPT3001EVM software
OPT3001EVM User Guide and Schematic Diagram