Evaluation Kit Atmel SAMA5D4-EK
Main Features of Kit or Board
Parameter
Value
Base component
Atmel
Core
Cortex-A5
Category, bit
16/32-bit
Supported families
Cortex-A5
Board peripherals

RS-232 driver
I/O pins
I2C interface
I2S
SPI
USB
USB-device
USB-Host
Ethernet
LCD
touch-screen display
JTAG/BDM
SDIO/SD/MMC
Flash
SDRAM
NANDFlash
audio in/out
video in/out
potentiometers
user buttons
user LEDs
sense
Power Management
| | |
| --- | --- |
| Manufacturer | Atmel |
| Part Number | SAMA5D4-EK |
The SAMA5D4-EK is a full-featured evaluation platform for the Atmel® SAMA5D4 embedded microprocessor. The kit is based on the SAMA5D44 and covers all product derivatives. The kit consists of a main board and a display module featurering a 7-inch (17.8 cm) capacitve touch screen. It is supported by the SAMA5D4 software package, a free set of bare-metal C progamming examples, and is delivered with on-board demonstrations for Linux and a Qt-based GUI. The SAMA5D4-EK allows users to extensively evaluate, prototype, and create applications that require graphics, video, audio, mass storage, networking, connectivit and more.
Prices
Detailed Description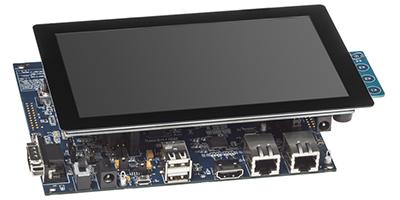 Key Features
SAMA5D44-CU running at up to 528MHz
4Gb x 32bit DDR2 and 4Gb x 32bit NAND Flash
SDCARD slot and µSDCARD slot
2 USB 2.0 host ports (Hight speed)
1 USB 2.0 host/device port (High speed)
2 10/100 Ethernet ports
1 Soft modem DAA (data access arrangement)
HDMI video output
Audio codec
J-Link on-board and a serial debug port
Expansion connectors, user buttons, LEDs, etc.
Main Board Features:
SAMA5D44 CPU with its embedded resources

12 MHz, 32 kHz and 25 MHz oscillators
Power rails.

Memory:

4x 8-bit DDR2, 512 Mbytes (Micron MT47H128M8CF-25E)
1x 8-bit NAND Flash, 512 Mbytes (Micron MT29F4G08ABAEAWP),
1x Serial data Flash AT25DF321,
2x SD/MMC interfaces with connector,
1x 1-Wire DS28E05.

Communication:

2x USB host communication ports with power switch and current limitation,
1x USB host/device with power switch and current limitation,
1x ETH0 10/100MHz PHY RMII, KSZ8081RNL MICREL,
1x ETH1 10/100MHz PHY RMII, KSZ8081RNL MICREL shared with LCD PIO,
1x Soft-Modem DAA.

LCD, Video, ISI:

1x LCD 24-bit interface connector for LCD and QTouch,
1x ISI connector,
1x HDMI interface Si9022 Silicon Image with connector.

Audio:

Line Input (or Micro) and Headphone output,

Debug solution:

1x peripheral Input/Output extension connector HE10 (PIO A to E),
1x JTAG/ICE connector,
1x DBGU/USB bridge device communication interface.

Analog:

Analog reference,
Potentiometer connected on ADC input,
Power lines with jumpers for current measurement.

Buttons:

Disable boot, reset and wakeup pushbuttons,
1x user input push button.

LEDs:

1x red power LED,
1x blue user LED,
1x green user LED.
The SAMA5D4-EK includes:
Boards:

One SAMA5D4X-MB main board
One 7" display module (TM7000)

Cables

One micro-AB type USB cable
One RJ45 crossover cable

Power supply

One universal input AC/DC power supply with US, Europe and UK plug adapters
One CR1225 3V lithium battery

A Welcome Letter
SAMA5D4-EK User guide and Schematic
Other Names:
SAMA5D4EK, SAMA5D4 EK
You may have to

register

before you can post comments and get full access to forum.
RadioLocman on the Social Web: