Detailed Description
This evaluation board showcases the TPS92661Q LED Lighting Matrix Manager. It is intended to show the individual PWM dimming control of each LED, and is targeted at exterior automotive lighting. The board includes 2 strings of 12 LEDs at a maximum average LED current of 130mA from a DC input voltage of 48V. Control of the TPS92661Qs is accomplished via a C2000 Piccolo DSC.
The board is supplied with a GUI and USB cable which allows the user to modify and observe string currents, individual LED duty cycles and phase shift, and monitor system performance.
If so desired, the user can reprogram the on-board DSC to better understand how to interface to the TPS92261, or can also attach their own microcontroller to the system to begin firmware development on the desired microcontroller.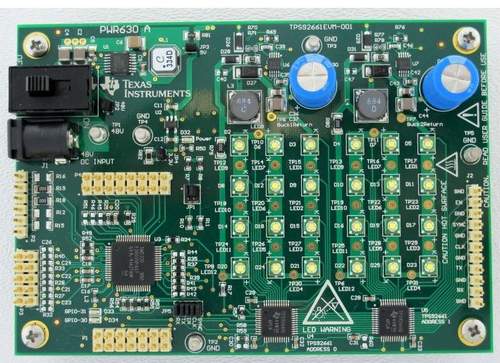 Features
Two independently controlled LED strings with TPS92661 LED management.
2x TPS92661 channels (24 LEDs) with independently-controlled buck current sources
Ability to adjust and monitor various system properties via the included GUI.
On-board, Re-programmable C2000 DSC, and/or external connector, allows for custom firmware development.
Measurement points available to measure primary currents in the system, as well as individual LED voltage test points.
Local power supply generation enables single input voltage testing
Expandable bus interface to custom hardware
Ability to interface an external microcontroller to the TPS92661s to allow custom firmware development
TPS92661EVM-001 User Guide and Schematic
Other Names:
TPS92661EVM001, TPS92661EVM 001