Multimedia Expansion Board II (MEB-II) is a highly integrated, compact and flexible development platform which works with PIC32MZ Starter Kit. The MEB-II kit features a 4.3" WQVGA PCAP touch display daughter board. The kit also has an onboard 24-bit stereo audio codec, VGA camera, 802.11 b/g wireless module, Bluetooth HCI transceiver, temperature sensor, microSD slot and analog accelerometer.
Prices
Detailed Description
The MEB II system consists of the PIC32 Starter Kit, MEB II mother board, and a display daughter board (4.3" PCAP touch). MEB II is a mother board that contains all the necessary components and interfaces to support the multimedia features. PIC32 starter kit c onnects to MEB II through a 168-pin board-to-board connector and contains the PIC32 microcontroller with additional components (debug, memory, communication etc). The display daughter board is connected to the MEB II using a 60-pin board-to-board connector (detachable), providing flexibility to support a variety of displays.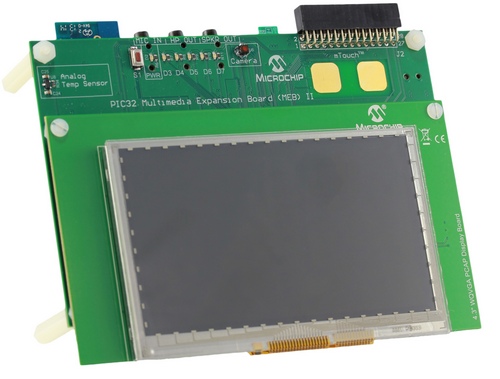 Features:
Works with the following kits and adaptor boards:
PIC32MZ EC Starter Kit w/ Crypto Engine
PIC32MZ EC Starter Kit
MEB/MEB II UART-to-USB Adaptor Board
24-bit stereo audio codec
Integrated 802.11 b/g wireless module
Low-cost Bluetooth HCI transceiver
Optional EBI SRAM memory
4.3" WQVGA PCAP touch display daughter board
microSD slot
mTouch sensing solutions buttons
Analog temperature sensor
VGA camera
PICtail connector
The Multimedia Expansion Board II (MEB II) contains the following items:
Multimedia Expansion Board II (MEB II) (Mother Board)
4.3" WQVGA Display Board (Daughter Board)
Multimedia Expansion Board II (MEB II) Information Sheet
Other Names:
DM320052, DM32005 2