Evaluation platform Atmel ATSAMA5D2-XULT
Main Features of Kit or Board
Parameter
Value
Base component
Atmel
Core
Cortex-A5
Category, bit
32-bit
Supported families
Cortex-A5
Board peripherals

RS-232 driver
I/O pins
I2C interface
I2S
SPI
USB
USB-Host
Ethernet
JTAG/BDM
SDIO/SD/MMC
Flash
SDRAM
audio in/out
video in/out
potentiometers
user buttons
user LEDs
sense
Power Management
| | |
| --- | --- |
| Manufacturer | Atmel |
| Part Number | ATSAMA5D2-XULT |
The SAMA5D2 Xplained Ultra is a fast prototyping and evaluation platform for the Atmel | SMART SAMA5D2 series of microprocessors. The board includes eMMC and DDR3 memories as well as a rich set of connectivity options. Connectors and expansion headers allows for easy customization and quick access to leading-edge embedded features such as the ClassD amplifier or the capacitive touch controller. An Atmel Linux distribution and software package allows you to easily get started with your development.
Prices
Detailed Description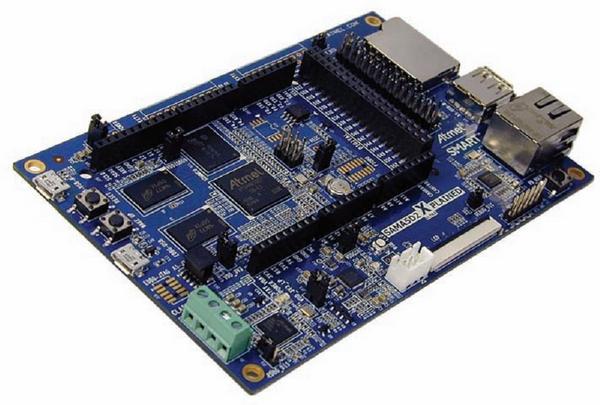 Key Features
Based on Atmel ATSAMA5D27-CU
x2 DDR3L 2Gb 16-Bit
x1 eMMC 4GB
x1 Ser.data flash QSPI
x1 Ser.E2P+Mac add
x1 Ethernet 10/100 Port
x2 USB Port
6-layers PCB
Board Specifications
Dimensions (L x W x H): 135 x 88 x 20 mm
Processor: SAMA5D27 (289-ball BGA package), 14x14 mm body, 0.8 mm ball pitch
Oscillators:

MPU, EDBG: 12 MHz crystal
RTC: 32.768 kHz
PHY: 25 MHz

Main Memory:

2 x DDR3L SDRAM 2 Gbit - 16 Mbit x 16 x 8 banks (total 4 Gbit = 512 Mbyte)
1 x eMMC NAND Flash 4 Gbit

Accessory memories:

One Serial EEPROM SPI
One optional QSPI Serial Flash
One EEPROM with MAC Address and Serial Number
SD/MMC One 4-bit SD card connector

USB:

One USB Host with power switch
One Micro-AB USB device

Display: One LCD interface connector, LCD TFT Controller with overlay, alpha-blending, rotation, scaling and color space conversion
Image Sensor: One ISC interface and connector
Ethernet: One Ethernet PHY (RMII 10/100 MHz)
Debug port:

One JTAG interface connector
One EDBG interface with CDC
One serial debug console interface (3v3 level)

Expansion connector:

Arduino R3 compatible set of connectors
XPRO set of connectors

Board supply voltage:

5V from USB
On-board power regulation by PMIC
External Battery powered capability
Battery On-board PowerCap

User interface:

Reset, Wake-up and free user push button
One tri-color user LED (red, green, blue)
The SAMA5D2-XULT includes:
Board: One SAMA5D2-XULT board
Cables:One Micro-AB type USB cable
Welcome letter
Other Names:
ATSAMA5D2XULT, ATSAMA5D2 XULT
You may have to

register

before you can post comments and get full access to forum.
RadioLocman on the Social Web: