Offers designers a complete, easy-to-use platform including firmware, hardware and licensing agreement for audio applications
Atmel Corporation, a leader in microcontroller and touch technology solutions, today announced a complete Digital Audio Platform for consumer, automotive and industrial applications. The Atmel Digital Audio Platform offers audio equipment and mobile accessory OEMs (original equipment manufacturers) a complete hardware and firmware solution that greatly simplifies the task of designing high-quality digital audio equipment. The new Digital Audio Platform is implemented with the Atmel AVR UC3 microcontrollers specifically tailored for audio applications such as smartphone and media player docking stations.

The Digital Audio Platform integrates dedicated microcontrollers, evaluation kits and firmware IP. The firmware IP includes control and streaming interfaces for a selection of popular smartphones and portable media players as well as MP3, WMA and AAC decoders to allow designers to decode compressed music files; USB protocol stacks; and a complete file system to allow designers to navigate through mass storage devices such as USB Flash disks or SD cards. The platform uses a ready-to-go commercial licensing model for firmware IP that enables designers to keep their firmware code confidential, unlike many audio license agreements today that require the firmware code to be open. The Digital Audio Platform is ideal for applications including docking stations, USB mass storage, SD card playback, car stereos, USB speakers, microphones, and various voice and music equipment. Other applications include mobile accessories (accessories connected to smartphones or tablets) that use the same underlying technology.
With all the benefits of the Atmel AVR UC3 microcontrollers, the Digital Audio Platform offers designers a system that is highest in performance and lowest in power. The AVR UC3 microcontrollers also support the Atmel QTouch Library for easy implementation of elegant, differentiating user interfaces for capacitive touch buttons, sliders and wheels.
"Designing digital audio applications has historically been a complex, cumbersome task of finding the required firmware IP, licensing it and finally stitching it together in a working application," said Ingar Fredriksen, sr. director of AVR products, Atmel Corporation. "The Atmel Digital Audio Platform offers an 'out-of-the-box solution' to enable designers to develop today's audio applications with minimum engineering effort spent on getting the core design working."
Key Features
Made For iPod (MFi) protocol stack that allows control and streaming of digital audio from an iPod, iPhone or iPad device
MP3 decoder
WMA decoder
AAC decoder
WAV decoder
Music file player from SD card
Music file player from USB mass storage device
USB speaker and microphone capability (audio class)
Stream synchronization
Typical Applications
USB docking stations for iPod, iPhone and iPad devices
Memory playback systems for SD cards or USB mass storage
Car radios
Home audio systems
USB speakers & microphones
Keyboards and guitar amplifiers
Talking applications
Architecture of Atmel Audio Firmware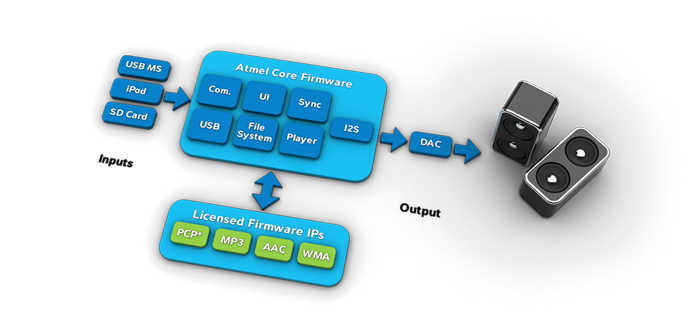 The core of the firmware is a player that integrates file system management, the USB stack, the user interface and all the synchronization mechanisms required by audio applications. This player takes various files or streams as input and then outputs music after interfacing with Atmel licensed audio firmware intellectual property (IP).
Licensing
Atmel licensed audio firmware IP cores are delivered free of charge. Since they are based on commercial license agreements, you can keep your proprietary code confidential while freely using these high-quality firmware IP cores. Since they come with a simple click-through license agreement, they are ready to be used right away without spending time or money negotiating and entering into software license agreements with firmware providers. At Atmel, we would rather see you spend time and efforts on your application design.
To accelerate development time, we suggest you start prototyping with an Atmel audio evaluation kit right away.
EVK1105AU includes an AT32UC3A0512AU and is delivered with an MP3 demo player. The kit is available for $179 USD at store.atmel.com and your local distributor.
EVK1104AU includes an AT32UC3A3256AU and is delivered with an MP3 demo player. The kit is available for $169 USD at store.atmel.com and your local distributor.
EVK1105-MFi is based on the EVK1105AU evaluation kit and enables you to stream digital audio from an Apple device, display a custom logo on the Apple device, remotely control it and display cover art and ID3 information on the kit's LCD screen. The EVK1105-MFi is only available to customers enrolled in the MFi licensing program and can only be obtained via Apple's authorized MFi component distributor.
Pricing and Availability
The Atmel Digital Audio Platform is available now. Pricing for 10,000-piece quantities:
Device

Pricing in USD
(10K Units)

$8.80

$10.37

$7.46

$6.07

$8.00

$6.78

$8.74

$7.39

$5.02

$5.48

$9.11
Evaluation kit pricing:
EVK1105AU: $179 USD
EVK1104AU: $169 USD