Debugger/programmer module FTDI UMFPD2A
| | |
| --- | --- |
| Manufacturer | FTDI |
| Part Number | UMFTPD2A |
The UMFPD2A debugger/programmer module provides a USB bridge between the FT90x Eclipse IDE development tools runnng on a PC and the FT900 1-wire debug pin.
Prices
Buy UMFTPD2A on RadioLocman.Price
Detailed Description
This module can be used to program, configure the EFUSE and debug firmware running on the FT90x series.
The UMFTPD2A module features a single line half-duplex UART signal with no handshake (One-Wire interface), one MPSSE interface, one UART interface and a Bit-Bang port.
The module has configured the FT4232HL Channel A as a UMFTPD2A one-wire interface for MM900EVxA evaluation board firmware / application download, or GDB debugging.
The FT4232HL Channel B is configured as a UMFTPD2A MPSSE interface with 4 GPIO control signals. This allows the UMFTPD2A to implement MM900EVxA evaluation board EFUSE program, or firmware / application upload as well.
The FT4232HL Channel C is optional. It is configured as a UART that can capture the messages from MM900EVxA evaluation board insoftware debugging.
The FT4232HL Channel D is reserved as a Big-Bang interface for generic GPIO purposes.
The FT90x program utility can activate the required channels corresponding to the operations.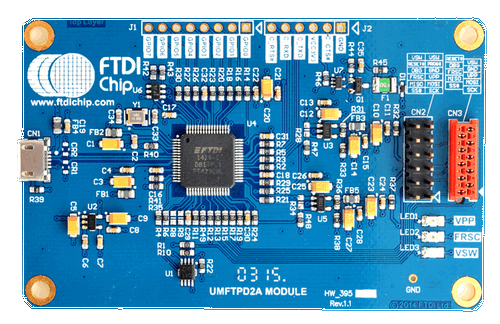 Key Features:
Hi-Speed USB to one-wire interface converter
Hi-Speed USB to MPSSE interface converter
Hi-Speed USB to UART interface converter
Provides H/W Reset# signal
Provides multiple generic GPIO control signals
PWREN# line to control +5 power supply
Fuse protected with 0.5A hold current and schottky diode on the output power line
Two dedicated GPIOs to control VPP and FRSC power supplies
Three LEDs for power supply indication
2X5 way 1.27mm pitch Micor-MaTch socket
2X6 way 2.54mm pitch through hole pin header
Micro-B type USB port
Micro-MaTch Male to Male 10 pin ribbon cable
UMFPD2A User Guide and Schematic
Main Features of Programmer
Parameter
Value
Type

In-circuit
Programmer/emulator

Connection interface
USB
Target connection

FTDIdebug
USB-UART
USB-MPSSE
USB-Bit-Bang

Version
Board
Supported devices
FTDI FT90x
You may have to

register

before you can post comments and get full access to forum.