Connecting seamlessly to Atmel AVR Studio 5 and all Atmel 8- and 32-bit AVR MCUs, JTAGICE3 offers a faster, smaller and more robust in-circuit debugger
Atmel Corporation, a leader in microcontroller and touch solutions, today announced the new Atmel JTAGICE3 mid-range in-circuit debugger and programmer to support all Atmel AVR 8- and 32-bit microcontrollers (MCUs). This new debugger is smaller, faster, and more robust than the previous generation, and connects seamlessly to the recently-launched Atmel AVR Studio 5. The small and robust design is especially handy for developers who test and debug in the field.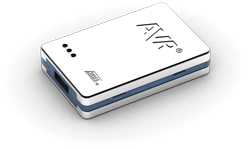 The new JTAGICE3 supports faster in-system debug and programmer with full control of all MCU features and configurations. The new design allows the debugger to program the on-chip 256 KB flash AVR microcontroller in less than 14 seconds. It also offers full support for JTAG, aWire, SPI and PDI serial program, and debug interfaces used in AVR microcontrollers. JTAGICE3 can program MCUs powered by 1.8V to 5.5V and supports three hardware program breakpoints plus one maskable data breakpoint and up to 128 software breakpoints.
Measuring at 2.1 × 3.4 inches (5.4 × 8.6 cm), the debugger is housed in a heavy duty plastic casing and powered by a USB port. JTAGICE3 is the perfect tool for testing and programming AVR-based designs in the field and connects seamlessly to Atmel AVR Studio 5, a fully integrated, easy-to-use development environment used by over 100,000 users of 8- and 32-bit AVR embedded MCUs. The debugger can also be embedded as a link controlled by the customer's application running under Windows or Linux.
"The combination of AVR Studio 5 and the JTAGICE3 in-circuit debugger and programmer provides embedded developers a complete solution to program and debug any Atmel AVR 8- and 32-bit microcontroller," said Haakon Skar, director of AVR Marketing, Atmel Corporation. "The combined features offer a true seamless experience for AVR developers and will help bring their prototype designs faster to market."
About AVR Studio 5
Atmel AVR Studio 5 is an enhanced version of the popular Atmel Integrated Development Environment (IDE) with support for all AVR 8- and 32-bit MCUs, making developers significantly more effective, and enables seamless migration between Atmel's 8-bit and 32-bit AVR MCUs.
AVR Studio 5 makes editing and debugging source code easier by seamlessly bringing together an editor with assisted code writing, a wizard for quickly creating new projects, an AVR Software Framework source code library, a GNU C/C++ Compiler, a powerful simulator, and a front-end visualizer for all of Atmel's AVR programmers and in-circuit debuggers.