Evaluation Module Texas Instruments DRV8872EVM
Main Features of Kit or Board
Parameter
Value
Base component
Texas Instruments
Board peripherals

motor driver
potentiometers
DRV8872 H-Bridge PWM Motor Driver Evaluation Module
Prices
Detailed Description
The DRV8872 evaluation module demonstrates the capabilities and performance of the DRV8872 integrated circuit from Texas Instruments. The EVM includes a 5V regulator and PWM generator. A single power source is required to evaluate the DRV8872.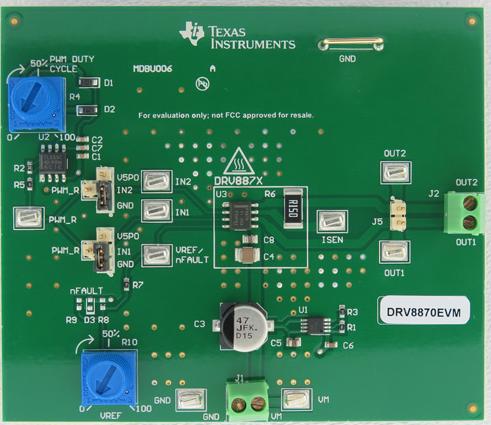 Features
H-Bridge Motor Driver

Drives One DC Motor, One Winding of a Stepper Motor, or Other Loads

Wide 6.5-V to 45-V Operating Voltage
565-mΩ Typical RDS(on) (HS + LS)
3.6-A Peak Current Drive
PWM Control Interface
Integrated Current Regulation
Low-Power Sleep Mode
Fault Status Output Pin
Small Package and Footprint

8-Pin HSOP With PowerPAD
4.9 × 6.0 mm

Integrated Protection Features

VM Undervoltage Lockout (UVLO)
Overcurrent Protection (OCP)
Thermal Shutdown (TSD)
Fault Reporting (nFAULT)
Automatic Fault Recovery

6.5V to 45V Operating Supply Voltage Range
On Board 5V Regulator
Adjustable PWM DUty Cycle
Adjustable Current Regulation
You may have to

register

before you can post comments and get full access to forum.
RadioLocman on the Social Web: