Evaluation Module Texas Instruments BQ76PL455EVM
Texas Instruments' passive balancing bq76PL455A-Q1 provides monitoring and balancing for a stack of up to 16 series-connected lithium-ion battery cells.
Prices
Detailed Description
The bq76PL455A-Q1 operates on stack voltages from a 16 V minimum to a 79.2 V maximum. In addition to 16 battery cell measurement channels, eight (8) additional analog channels are provided for temperature or auxiliary signal sensing, and six (6) additional digital channels are provided. As an option, configure the digital channels to generate faults when the level changes state; either high to low, or low to high. Please refer to the bq76PL455A-Q1 data sheet (SLUSC51) for specification of channel voltage measurement accuracy over the 0 to 65°C and –40°C to 105°C operating temperature ranges. The passive cell balancing current is set by onboard resistors to 56 mA for a cell at 4.2 V.
For battery stacks with more than 16 cells, stack up to 6 bq76PL455EVMs, in series, to support up to 96cells. Communication with stacked bq76PL455EVMs is via an isolated daisy chain differential bus capable of withstanding 500 V. A stack of multiple bq76PL455EVMs can be woken from power down using a single wake command from the GUI. System Faults are monitored and indicated in the GUI by simulated LED fault indicators.
Control a single EVM or multiple stacked bq76PL455EVMs using a PC-hosted GUI. Communication between the PC and the lowest in a stack of bq76PL455EVMs is via an FTDI USB-to-TTL (5V) serial interface cable. Communication between all other EVMs in the stack is via the isolated, daisy chain differential communication bus. The PC GUI allows configuration of the bq76PL455EVMs to monitor cells and other analog data channels, control balancing, and monitor details of any faults.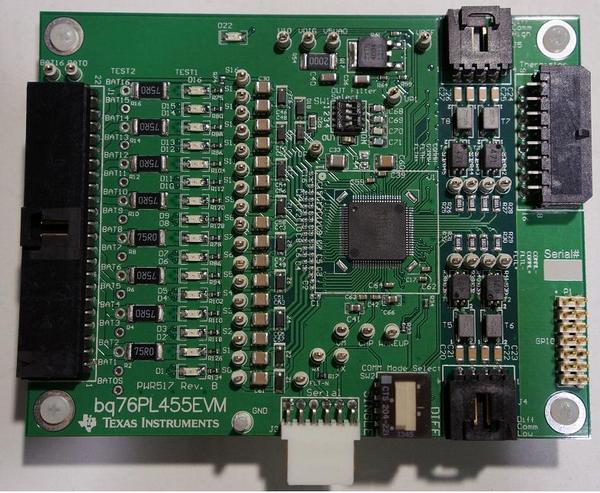 The bq76PL455EVM (Figure 1) demonstrates the performance of Texas Instrument's new highly integrated bq76PL455A-Q1 16-cell, battery stack monitoring, passive balancing device. The bq76PL455A-Q1 provides a highly accurate, reliable, and robust solution for battery management, integrating all of the following components:
14-bit Analog-to-Digital Converter (ADC)
Precision voltage reference
Precision, high-voltage Analog Front End (AFE)
Universal asynchronous receiver/transceiver (UART) serial communication interface
LDO voltage regulator
Control logic for monitoring, balancing, and communication functions
The features for the bq76PL455EVM include:
16-channel precision voltage cell monitoring and passive balancing
8-channel temperature or auxiliary signal monitoring
6-channel digital signal monitoring, with optional fault monitoring
Isolated serial communications
Stackable, supporting up to 96 cells
User Guide and Schematic Diagram
Main Features of Kit or Board
Parameter
Value
Base component
Texas Instruments
Board peripherals

RS-232 driver
I/O pins
analog inputs
Power Management
Li-ion Battery Management