FTDI Programmer Debugger Module FTPD-1
| | |
| --- | --- |
| Manufacturer | FTDI |
| Part Number | FTPD-1 |
The FTPD-1 is a module with a FT230X USB to UART converter and a dual buffer.
Prices

Detailed Description
The FTPD-1 utilises these components to generate a single line half-duplex UART signal with no handshake which can be used to program several of FTDI's MCU devices, predominantly FT51A. This module also provides a switched 5V power supply to the target device and is configured such that it does not infringe USB compliance regulations for supplying bus power.
FTPD-1's board dimensions are the same as a credit card; however the fitted components give it additional height. The module is supplied with a berg connector ribbon cable; however it is compatible for operation with pogo pin cables. Allcomponents used, including the FT230X are Pb-free.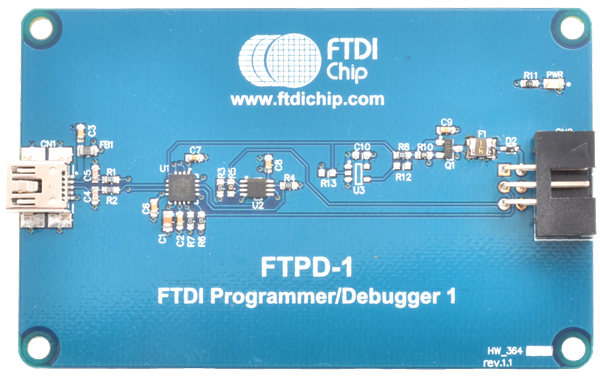 Features
Full-Speed USB to UART converter
Single half-duplex UART data pin input/output
Two dedicated GPIOs to control Reset# and Prog# outputs
TXDEN line to control the direction of the half-duplex UART data
PWREN# line to control the power supply
2×3 way 2.54 mm pitch shrouded male header
150 mm ribbon cable with Female to Female 2.54 mm pitch 2×3 way connectors
Protected by resettable fuse with 0.5 A hold current and schottky diode on the output power line.
Pogo pin compatible
Power output available, indication LED
User Guide and Schematic Diagram
Main Features of Programmer
Parameter
Value
Type

In-circuit
Programmer/emulator

Connection interface
USB
Target connection
Version
Board
Supported devices
Other Names:
FTPD1, FTPD 1