Plug-in Module Microchip MA240023
Main Features of Kit or Board
Parameter
Value
Base component
Microchip
Core
PIC24
Category, bit
16-bit
Supported families
PIC24F
Board peripherals

I/O pins
I2C interface
SPI
USB
analog inputs
sense
The PIC24FJ1024GB610 Plug-in Module is designed to demonstrate the capabilities of the PIC24FJ1024GB610 family using the Explorer 16 Demonstration Boards. Most of the pins from the device are mapped directly to the PIM connector (100-Pin ICE). The exceptions are those pins that are remapped to provide remappable functionality to the pins in the PICtail Plus socket.
Prices
Detailed Description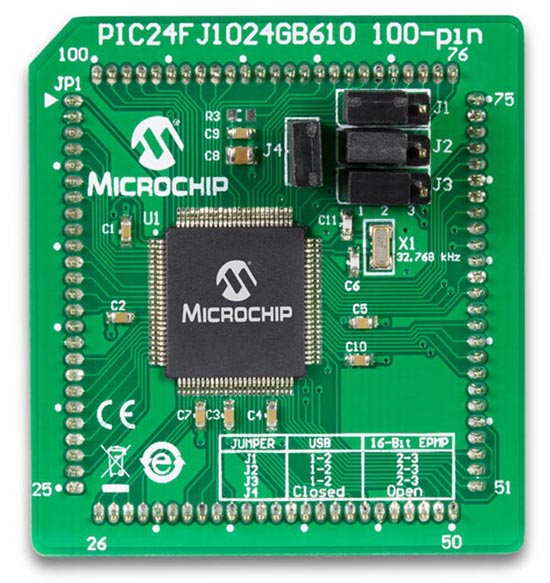 Features:
Due to the flexibility allowed by the PPS feature, the 100-pin device is capable of performing all of the base functions on the 100-pin Explorer 16 board. In addition, the PIM is compatible with most of the PICtail Plus daughter boards for the Explorer 16, including the USB PICtail Plus Daughter Board (AC164131)
Installed MCU PIC24FJ1024GB610:

CPU

Modified Harvard Architecture
Up to 16 MIPS Operation @ 32 MHz
8 MHz Internal Oscillator:

96 MHz PLL option
Multiple clock divide options
Run-time self-calibration capability for maintaining better than ±0.20% accuracy
Fast start-up

17-Bit x 17-Bit Single-Cycle Hardware Fractional/Integer Multiplier
32-Bit by 16-Bit Hardware Divider
16 x 16-Bit Working Register Array
C Compiler Optimized Instruction Set Architecture
Two Address Generation Units for Separate Read and Write Addressing of Data Memory

Analog Features

10/12-Bit, up to 24-Channel Analog-to-Digital (A/D) Converter:

12-bit conversion rate of 200 ksps
Auto-scan and threshold compare features
Conversion available during Sleep

Three Rail-to-Rail, Enhanced Analog Comparators with Programmable Input/Output Configuration
Charge Time Measurement Unit (CTMU):

Used for capacitive touch sensing, up to 24 channels
Time measurement down to 100 ps resolution

Dual Partition Flash with Live Update Capability

Capable of Holding Two Independent Software Applications, including Bootloader
Permits Simultaneous Programming of One Partition while Executing Application Code from the Other
Allows Run-Time Switching Between Active Partitions

Low-Power Features

Sleep and Idle modes Selectively Shut Down Peripherals and/or Core for Substantial Power Reduction and Fast Wake-up
Doze mode Allows CPU to Run at a Lower Clock Speed than Peripherals
Alternate Clock modes Allow On-the-Fly Switching to a Lower Clock Speed for Selective Power Reduction
Wide Range Digitally Controlled Oscillator (DCO) for Fast Start-up and Low-Power Operation

Universal Serial Bus Features

USB v2.0 On-The-Go (OTG) Compliant
Low-Speed (1.5 Mb/s) and Full-Speed (12 Mb/s) USB Operation in Host mode
Full-Speed USB Operation in Device mode
High-Precision PLL for USB
USB Device mode Operation from FRC Oscillator – No Crystal Oscillator Required
On-Chip USB Transceiver with Interface for Off-Chip USB Transceiver
Supports Control, Interrupt, Isochronous and Bulk Transfers
On-Chip Pull-up and Pull-Down Resistors
You may have to

register

before you can post comments and get full access to forum.
RadioLocman on the Social Web: