Industrial reference design board FDI IRD-LPC1768-DEV
The NXP LPC1768 Cortex-M3 microcontroller based industrial reference design (IRD) is optimized to save development time in typical industrial control applications.
Detailed Description
Its modular format uses a base, core, and application board configuration for added flexibility. The kit is preconfigured to work with Keil uVision3 development environment, and example code for converting your ARM7 application to NXP Cortex-M3 LPC176x microcontroller series devices. Using NXP's cost effective Cortex-M3 microcontrollers as the basis for each platform means that designers can create competitive, highly differentiated products at a lower overall cost. The application board plugs directly into the base board via a common application connector and software configures the system for plug-and-play operation.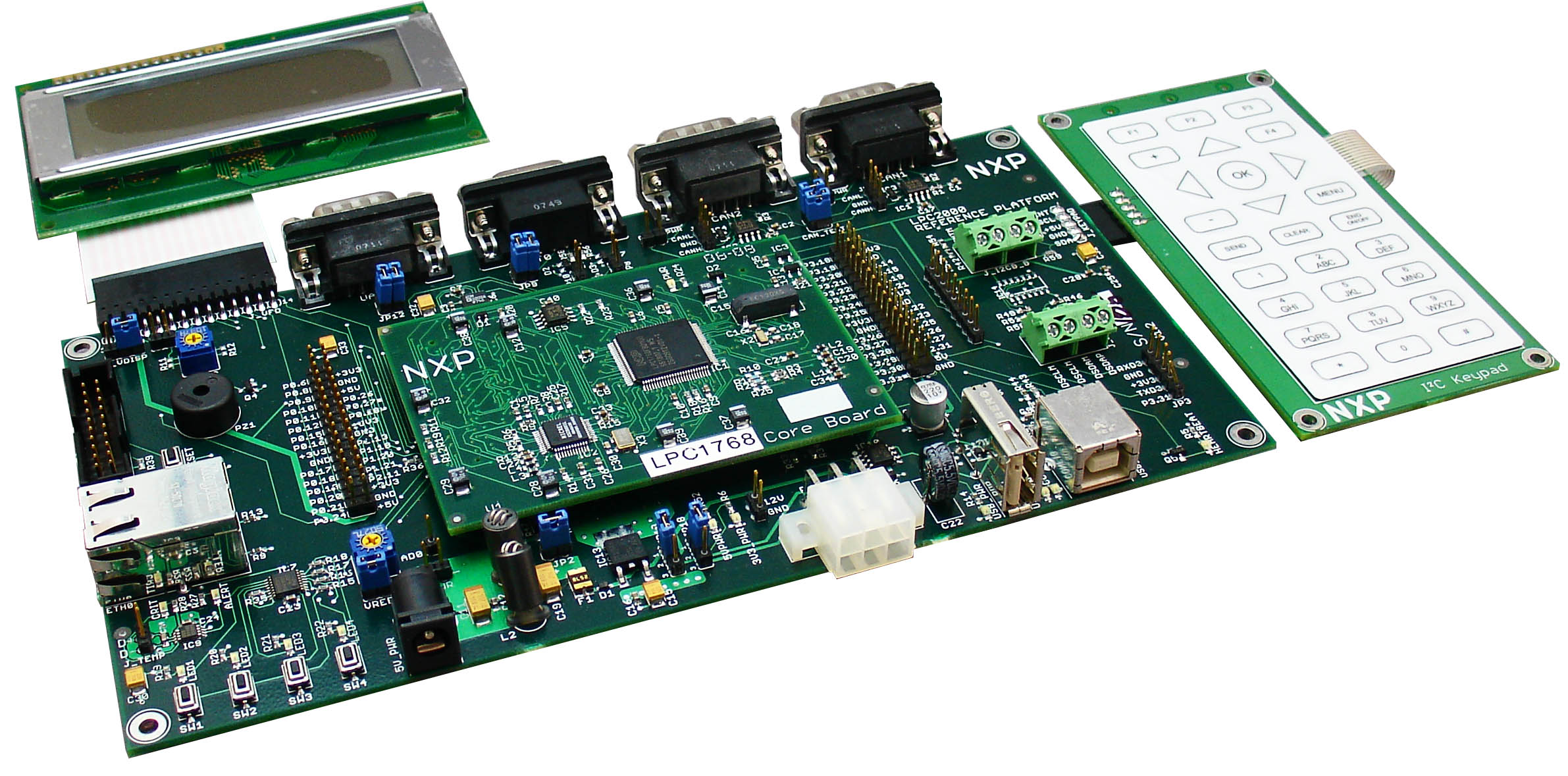 Features:
LPC1768 100MHz ARM Cortex-M3 microcontroller
10/100 Ethernet port
USB Host and Device ports
Two CAN ports
Serial interfaces (I2C, UART, SPI, I2S)
Two RS-232 ports
Parallel interface for displays (4-line by 20-character LCD module included)
I2C interface for keypad and other peripherals
5V 2A Power Supply (included) or USB Device Port powered
Keil ULINK-ME JTAG debugger
Keil uVision3 IDE software via download (60-day free trial version, 256K code size limited)
Contains easy-to-use application documents for all hardware and software
Platform is based on a modular design for maximum flexibility
Kit Contents:
Industrial Reference Design Hardware
LPC1768 Core Board
IRD Base Board
20-character ×4 line alphanumeric LCD
27 key smart phone style keypad board
5VDC, 2.0A Power Supply
USB, Ethernet & RS232 Cables
External Temperature Sensor Cable
IRD Quick Start Guide
Keil ULINK-ME JTAG debugger
Keil uVision3 IDE software via download
Link for downloading updated source code
IRD Platform Board Schematics
Core Board Schematics
Other Names:
IRDLPC1768DEV, IRD LPC1768 DEV