Conitec's GALEP-4 is a universal device programmer of pocket-sized dimension. The programmer supports EPROMs, EEPROMs, FLASH EPROMs, serial EEPROMs, Microcontrollers, GALs and PALCEs, handling up to DIP40 devices without requiring any additional adapters or circuitry. It's connected to the PC through the parallel printer port. For even more performance a version with 48 pin drivers and USB2 port is available (GALEP-5).
By using a highly integrated FPGA, GALEP's internal logic is freely programmable and automatically optimized for the selected component. This way all components can be both written and read at optimal speed.
Prior to each function, GALEP-4 checks the electric selected device's electric consumption, as well as the correct positioning of the selected component. This reduces the risk of accidentally harming the component or the programmer to a minimum.
The GALEP-4 features a truly universal pin driver design. In contrast to such high end programmers as HILO's EMP-11, which only features a few universal pin drivers, the Galep-4 carries a separate universal pin-driver for each of the 40 socket pins. Therefore GALEP-4's pin driver design corresponds to that usually found in far more expensive programmers.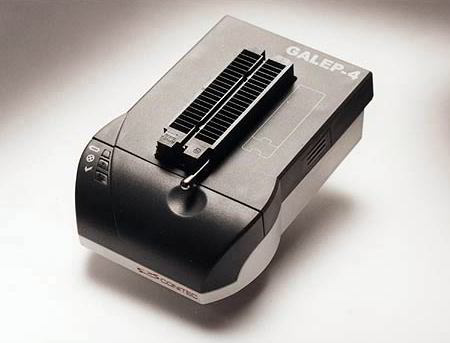 Low-Voltage GALEP-4 pin drivers feature true level-shifters and comparators, guaranteeing clean signals right down to 1.3 volts. The Galep-4 comparators allow measurement of the voltage on any of the 40 pins within a range of 0 to 25 volts with a precision of 100 mV. This can be used to precisely determine high and low levels at the component's output pins. GALEP-4 consequently requires far fewer socket adapters than other high end programmers such as the ALL-11C/P.
Technical Specifications
Pocket-sized, ultra-portable format: only ca. 80 x 115 x 33 mm
Programs 8-bit and 16-bit EEPROM's up to 8 MBit, normal and serial EEPROM's, Flash-EPROM's
Programs GALs / PALCEs
Programs all common microcontrollers
Easy PC printer port connection
Automatic Split/shuffle function for 8-, 16- and 32-bit target systems
Supports Hex, Jedec and Binary file formats
Integrated hex and fusemap editor
Flexible pin driver technology allows new devices to be implemented via software monthly - providing permanently upgradeable hardware.
Unlimited free software updates via internet
Along with conventional external power, the GALEP-4 is configured for use in the field, with six NiMH rechargable batteries, allowing up to 24 hours of continuous operation between charges (batteries not included).