»
Devices
»
Programmers
Specialized programmer Elnec T51prog2
Elnec » T51Prog2, PROG T51PROG2
Main Features of Programmer
Parameter
Value
Type
Connection interface
USB
Target connection
Version
desktop
Supported devices

MCU Atmel AVR
MCU Atmel 8051
MCS51
MCS51 series and Atmel AVR microcontrollers ISP capable fast programmer.
Elnec fully understand needs of customers programming high volumes for which cost of adapters is one of most important component of costs. Therefore Elnec policy is to offer:
fixed discount when buying 4+ adapters of particular type,
individual discount for quantities 8+ according to type of adapter and demanded quantity. To get Quotation 8+ please click here: Ask for price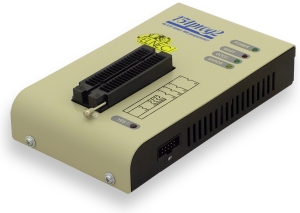 Short description:
10762 supported devices from 150 manufacturers by 2.76 version of SW (27. Jan. 2011)
small, very fast and powerful portable programmer of MCS51 series and Atmel AVR microcontrollers
in-circuit serial programming (ISP) capability included
program also serial EEPROMs
DIL40 ZIF socket, all MCS51/AVR chips in DIL package up to 40 pins are supported without adapters
connection to PC: USB port
USB 2.0 full speed and USB 1.1 compatible
upgradeable to SmartProg2 programmer.
comfortable and easy to use control program, work with all versions of MS Windows from Windows 98 to Window 7 64-bit
free SW update, download from Internet
power supply, cable and software included
approved by CE laboratory to meet CE requirements
Specification
Programmer
two D/A converters for VCCP and VPP, controllable rise and fall time
VCCP range 2V..7V/350mA
VPP range 2V..25V/200mA
USB 2.0/1.1 compatible interface
autocalibration
selftest capability
ZIF socket, pindriver
40-pin DIL ZIF (Zero Insertion Force) socket accepts both 300/600 mil devices up to 40-pins
pindriver: 40 TTL pindrivers, specialized GND/VCC/VPP pindriver for MCS51 and AVR devices
FPGA based TTL driver provides H, L, CLK, pull-up, pull-down on all pindriver pins, level H selectable from 1.8 V up to 5V
continuity test: each pin is tested before every programming operation
ISP connector
10-pin male type with missinsertion lock
6 TTL pindrivers, provides H, L, CLK, pull-up, pull-down; level H selectable from 1.8V up to 5V to handle all (low-voltage including) devices.
1x VCCP voltage (range 2V..7V/100mA) and 1x VPP voltage (range 2V..25V/50mA)
programmed chip voltage (VCCP) with both source/sink capability and voltage sense
DEVICE SUPPORT
Programmer, in ZIF socket
microcontrollers MCS51 series: 87Cxxx, 87LVxx, 89Cxxx, 89Sxxx, 89LVxxx, LPC series from Atmel, Atmel W&M, Intel, Philips, SST, Winbond, ... 8-40 pins
microcontrollers Atmel AVR: ATtiny, AT90Sxxx, ATmega series (parallel and serial mode), 8-40 pins
Serial E(E)PROM: 24Cxxx, 24Fxxx, 25Cxxx, 59Cxxx, 85xxx, 93Cxxx series
Programmer, through ISP connector
Microcontrollers Atmel: AT89Sxxx, AT90Sxxxx, ATtiny, ATmega series
Microcontrollers Philips: LPC series
You may have to

register

before you can post comments and get full access to forum.
RadioLocman on the Social Web: