Evaluation Kit Atmel ATXMEGAC3-XPLD
The Atmel XMEGA-C3 Xplained evaluation kit is a hardware platform for evaluating the Atmel ATxmega384C3 microcontroller.
Prices
Detailed Description
The kit offers a range of features that enable the Atmel AVR XMEGA user to get started using AVR XMEGA peripherals right away and understand how to integrate the AVR XMEGA device in their own design.
The high-performance, low-power 8/16-bit AVR XMEGA microcontroller combines 384KB in-system programmable flash memory (8KB boot code section) with read-while-write capabilities, 4KB EEPROM, 32KB SRAM, a two-channel DMA controller, a four-channel event system, a programmable multi-level interrupt controller, 50 general purpose I/O lines, a 16-bit real time counter, five flexible 16-bit timer/counters with compare, compare and PWM channels, USB Full-speed Device, three USARTs, two two-wire interfaces, two serial peripheral interfaces, one 16-channel/12-bit ADC programmable gain, two analog comparators with window mode, a programmable watchdog timer with separate internal oscillator, accurate internal oscillators with PLL and prescaler, and a programmable brown-out detection.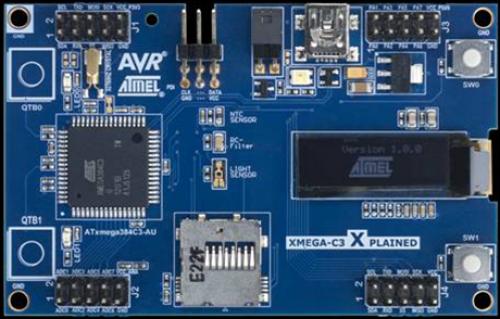 Key Features
Atmel ATxmega384C3 microcontroller:
OLED display with 128×32 pixels resolution
Transfer data over the USB full/low speed device interface
Read a light sensor with the ADC
Read a temperature sensor with the ADC
Measure external voltage input with ADC
Two Atmel QTouch® buttons
Two user LEDs, one power LED and one status LED
microSD card
Program the kit via USB bootloader or an Atmel programmer
Expand the board with Xplained top modules
ATXMEGAC3-XPLD Evaluation Board Schematic Diagram
Main Features of Kit or Board
Parameter
Value
Base component
Atmel
Core
AVR
Category, bit
8/16-bit
Supported families
Board peripherals

I/O pins
I2C interface
SPI
USB
USB-device
LCD
JTAG/BDM
ISP
SDIO/SD/MMC
light sensor
analog inputs
temperature sensor
user buttons
user LEDs
sense
Expansion Board
Other Names:
ATXMEGAC3XPLD, ATXMEGAC3 XPLD

You may have to

register

before you can post comments and get full access to forum.