Evaluation Kit Analog Devices ADZS-UCM3029EZLITE
The ADuCM3029 EZ-KIT (ADZS-UCM3029EZLITE), Analog Devices, Inc.is an evaluation system for the ADuCM3029 processor.
Prices
Detailed Description
The ADuCM3029 processor is based on the ARM® Cortex®-M3 processor core, a collection of digital peripherals, embedded SRAM and flash memory.
It also contains an analog subsystem which provides clocking, reset and power management capability in addition to an ADC subsystem. The ADuCM3029 Microcontroller is designed specifically for Motor Control and Industrial applications. The EZ-KIT ships with all of the necessary components required to start the evaluation immediately.
The EZ-KIT contains an array of three connectors that support the ADF7xxx Wireless Transceiver series of daughterboard products.
The EZ-KIT contains an expansion interface 3 (EI3) and Arduino interface. These interfaces provide for connecting with daughter boards to expand on the functionality of the EZ-KIT.
The evaluation board is designed to be used in conjunction with the IAR Embedded Workbench and Segger development environment for advanced application code development and debug.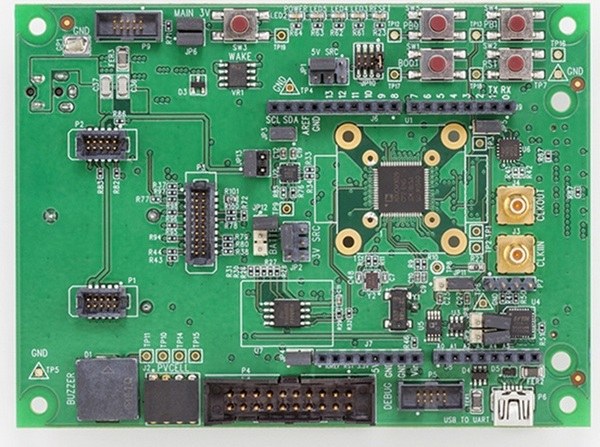 Features
Analog Devices ADuCM3029 processor

64-pin QFN package
26 MHz oscillator

SPI Flash (SPI2) chip
Accelerometer (SPI2)
Temp Sensor
Universal Asynchronous Receiver/Transmitter (UART0)

FTDI FT232R USB to UART IC
USB mini -B

Debug (SWD/SWO) interface

J-Link Lite ARM debugger
SWD/SWO 20-pin 0.1" header for use with IAR emulators
SWD/SWO 10-pin 0.05" header

LEDs

Five LEDs: one power (green), one board reset (red), and three general-purpose (amber)
Push buttons
Five push buttons: one reset, one wake, boot and two IRQ/Flag

Expansion Interface 3 (EI3) Connector

CLKOUT
SPORT0
SPI1
UART0
TWI0
Timers
GPIOs
RESET
GND/3.3V/5V output

Arduino Connectors
ADF7xxx Connectors
External power supply

CE compliant
5V @ 3.6 Amps

Power Measurement

Jumpers for measuring processor and board current draw
Package Contents
Evaluation Board
Universal 5V DC power
USB 2.0 Cable
J-Link Lite Emulator
Evaluation Board Schematic Diagram
Main Features of Kit or Board
Parameter
Value
Base component
Analog Devices
Core
Cortex-M3
Category, bit
32-bit
Supported families
Cortex-M3
Board peripherals

RS-232 driver
I/O pins
I2C interface
SPI
USB
JTAG/BDM
Flash
accelerometer
analog inputs
temperature sensor
user buttons
user LEDs
Other Names:
ADZSUCM3029EZLITE, ADZS UCM3029EZLITE

You may have to

register

before you can post comments and get full access to forum.