Microchip Technology Inc., a leading provider of microcontroller, analog and Flash-IP solutions, today announced the Microchip Bluetooth Evaluation Kit, which includes CandleDragon, Inc.'s dotstack demonstration Bluetooth Stack.
The kit provides an easy, cost-effective and flexible add-on for embedded evaluation and development using many 16/32-bit PIC microcontrollers or dsPIC digital signal controllers (DSCs). To speed development and further reduce costs, the Microchip Bluetooth Kit works with the Company's existing tools.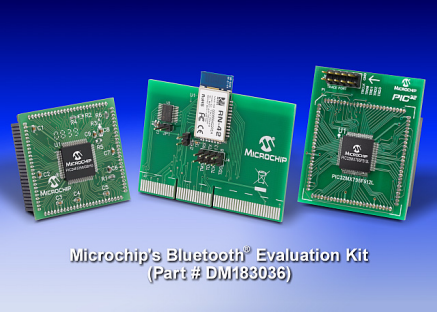 Main Features:
Supports a wide range of PIC24, dsPIC and PIC32
Communicates with PIC24, dsPIC and PIC32 over HCI UART at 115Ksps
On-board Class 2 Roving Networks Bluetooth module

Fully qualified Bluetooth 2.1/2.0/1.2/1.1 module
Bluetooth v2.0+EDR support
Bluetooth SIG Qualified

On-board ceramic RF chip antenna

Certifications: FCC, ICS, CE
RoHS compliant
While Bluetooth wireless technology is a common short-range protocol for PCs and consumer electronics, it is rapidly gaining popularity among a broader set of embedded applications. However, the current Bluetooth wireless technology modules are costly and inflexible because they force developers to use their predetermined baseband radio and microcontroller. Microchip and CandleDragon's Bluetooth solution enables designers to pair a wide range of radio ICs for Bluetooth connectivity with many of Microchip's 16/32-bit PIC microcontrollers or dsPIC DSCs. Additionally, CandleDragon's dotstack Bluetooth stack is Bluetooth SIG compliant and supports multiple profiles in a single microcontroller—including SPP, HFP and HID—with more profiles planned for Microchip's MCUs in the near future.
Pricing and Availability
CandleDragon's dotstack Bluetooth Stack is available today for free—for evaluation and development—via download from Microchip's Web.
Microchip's Bluetooth Evaluation Kit (part # DM183036) is also available today, for $109.99. It comes with the Microchip Bluetooth PICtail Plus Daughter Board, along with the 16-bit USB PIC24FJ256GB110 and 32-bit CAN/USB PIC32MX795F512L Microcontroller Plug-in Modules, both of which come pre-programmed with CandleDragon's dotstack Bluetooth demonstration stack and SPP profile. This kit is designed for use with Microchip's existing Explorer 16 Development Board (part # DM240001), available separately for $129.99.