Development Kit STMicroelectronics P-NUCLEO-LRWAN1
Main Features of Kit or Board
Parameter
Value
Base component
STMicroelectronics
Core
Cortex-M0+
Category, bit
32-bit
Supported families
Board peripherals

I/O pins
I2C interface
SPI
USB
JTAG/BDM
ISM Transceiver
LoRa Transceiver
analog inputs
temperature sensor
user buttons
user LEDs
Power Management
RTC
P-NUCLEO-LRWAN1 - Low-power wireless Nucleo pack with Nucleo-L073RZ and LoRa expansion board
Prices
Detailed Description
The STM32 Nucleo pack for LoRa technology and high-performance FSK/OOK RF transceiver modem (P-NUCLEO-LRWAN1) is a development tool to learn and develop solutions based on LoRa and/or FSK/OOK technologies.
This tool, in association with the certified embedded software solution (I-CUBE-LRWAN), provides the means to set up a complete LoRaWANnode compliant with class A, based on the Semtech SX1272MB2xAS LoRa extension board. To control the LoRa extension board, the pack comes with a NUCLEO-L073RZ MCU board based on the ultra-low-power STM32L0 ARM 32-bit microcontroller. The I-CUBE-LRWAN is LoRaWANclass A certified.
This pack is the perfect fit for any countries with 868 MHz or 915 ISM frequency bands.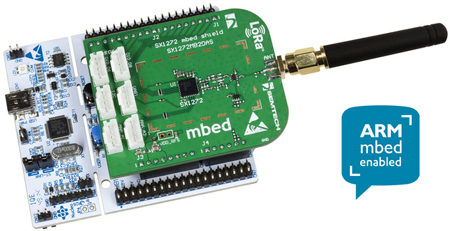 Key Features
NUCLEO-L073RZ board:

Ultra-low-power STM32L0 Series MCU, Cortex-M0+ based with 192 Kbytes of Flash memory, 20 Kbytes of RAM, 6 Kbytes of EEPROM, LCD, crystal-less USB, T-RNG, PCROP
Two types of extension resources

Arduino Uno Revision 3 connectivity
STMicroelectronics Morpho extension pin headers for full access to all STM32 I/Os

mbed-enabled
On-board ST-LINK/V2-1 debugger/programmer with SWD connector

selection-mode switch to use the kit as a standalone ST-LINK/V2-1

Flexible board power supply

USB VBUS or external source(3.3 V, 5 V, 7 - 12 V)
Power management access point

Three LEDs

USB communication (LD1), user LED (LD2), power LED (LD3)

Two push buttons: USER and RESET
USB re-enumeration capability: three different interfaces supported on USB

Virtual Com port
Mass storage
Debug port

Supported by wide choice of Integrated Development Environments (IDEs) including IAR, Keil, GCC-based IDEs

I-NUCLEO-SX1272D expansion board:

157 dB maximum link budget
+20 dBm, 100 mW constant RF output versus Vsupply
+14 dBm high efficiency PA
Programmable bit rate up to 300 kbps
High sensitivity: down to -137 dBm
Bullet-proof front end: IIP3 = -12.5 dBm
89 dB blocking immunity
Low RX current of 10 mA, 200 nA register retention
Fully integrated synthesizer with a resolution of 61 Hz
FSK, GFSK, MSK, GMSK, LoRa and OOK modulations
Built-in bit synchronizer for clock recovery
Sync word recognition
Preamble detection
127 dB+ dynamic range RSSI
Built-in temperature sensor and low battery indicator 1.65 V to 3.6 V power supply
Other Names:
PNUCLEOLRWAN1, P NUCLEO LRWAN1
You may have to

register

before you can post comments and get full access to forum.
RadioLocman on the Social Web: