STMicroelectronics has introduced a low-cost development kit that leverages the STM32 microcontroller ecosystem for prototyping Internet-of-Things (IoT) devices with LoRa Wireless Low-Power Wide Area Network (LPWAN) connectivity.
Priced at just $40, the P-NUCLEO-LRWAN1 kit combines the ultra-low-power STM32L073 Nucleo (NUCLEO-L073RZ) microcontroller board with an RF expansion board based on the proven SX1272 LoRa transceiver from Semtech (I-NUCLEO-SX1272D). The STM32L073 MCU, with its energy-efficient ARM Cortex-M0+ core and proprietary ultra-low-power features, provides an ideal host for devices such as utility meters, alarm systems, positioning devices, trackers, and remote sensors. Users can further extend functionality by adding extra expansion boards, such as the X-NUCLEO-IKS01A1 sensor board for motion, humidity and temperature sensing.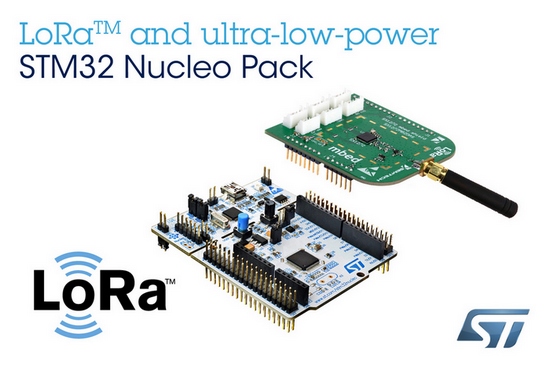 LoRa enables long-range communication with several advantages over conventional cellular connections, including lower power and cost. Versatile features include multiple communication modes, accurate indoor and outdoor location awareness, and native AES-128 security.
Key Features
157 dB maximum link budget
+20 dBm, 100 mW constant RF output versus Vsupply
+14 dBm high efficiency PA
Programmable bit rate up to 300 kbps
High sensitivity: down to -137 dBm
Bullet-proof front end: IIP3 = -12.5 dBm
89 dB blocking immunity
Low RX current of 10 mA, 200 nA register retention
Fully integrated synthesizer with a resolution of 61 Hz
FSK, GFSK, MSK, GMSK, LoRa and OOK modulations
Built-in bit synchronizer for clock recovery
Sync word recognition
Preamble detection
127 dB+ dynamic range RSSI
Automatic RF sense with ultra-fast AFC
Packet engine up to 64 bytes with CRC
Built-in temperature sensor and low battery indicator 1.65 V to 3.6 V power supply
The new kit contains everything needed to build bi-directional end devices that comply with LoRaWAN version 1.0.1 and support class A and class C protocols. Devices can be activated using Over-The-Air Activation (OTAA) or Activation-By-Personalization (ABP). An application for LoRaWAN certification tests is included in the kit, and the I-CUBE-LRWAN LoRaWAN stack is available and posted at www.st.com/i-cube-lrwan.
Access to the STM32 ecosystem provides rich development resources, including STM32Cube tools and software packages containing sample code and Hardware Abstraction Layers (HALs). These allow porting to any of the almost 700 STM32 MCU variants that cover a wide range of performance, power, packages, and price points. Developers are also free to use familiar IDEs and ARM mbed online tools.
The low purchase price of the P-NUCLEO-LRWAN1 kit allows a wide variety of engineers including independent designers, universities, and hobbyists to enjoy a high-end LoRa development experience. It is available immediately and can be purchased directly from st.com or through distributors.