Expansion board STMicroelectronics I-NUCLEO-NETX
netSHIELD industrial ethernet protocols expansion board for STM32 Nucleo
Prices
Detailed Description
netSHIELD is an STM32 Nucleo expansion board with Arduino-compatible connectors.
It is compatible with STM32 Nucleo-64 and Nucleo-144.
netSHIELD enables the user to connect an STM32-based application to all market relevant real-time Ethernet industrial networks with best-in-class real-time capabilities, like PROFINET®, Ethernet/IP™, EtherCAT® and others.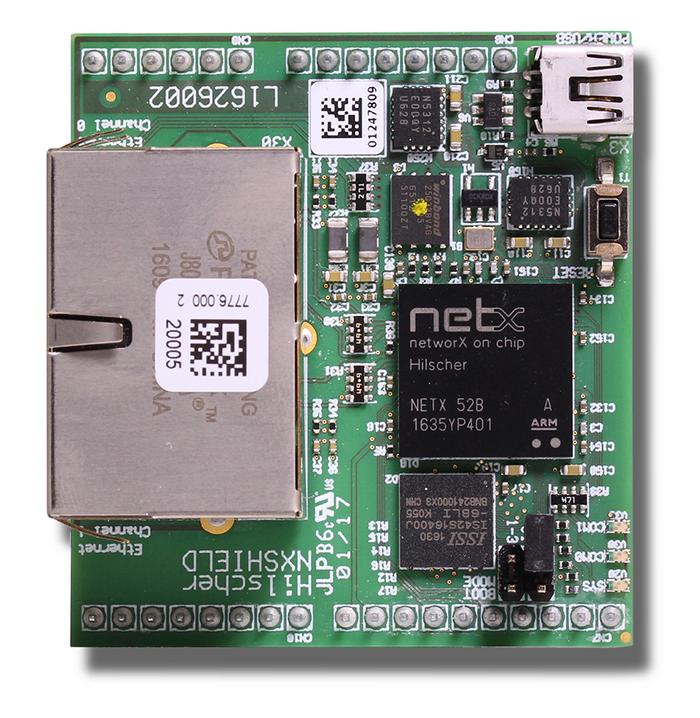 The netX SoC architecture is designed from the ground up for the highest demands on flexibility, determinism and performance in terms of multi-protocol capability, and low latency for short cycle times. The heterogeneous multi-core architecture features an ARM processor core coupled with a flexible communication sub system (xC) to support a variety of industrial applications.
The communication sub system, that is, the Protocol stack, runs independently on the netX SoC and requires only small memory and very limited CPU resources from the STM32 host microcontroller. A protocol-specific firmware image for the netX network controller is stored in a serial Flash memory.
This product is supplied by a third party not affiliated to STMicroelectronics. For the latest information on the specification and the package of the purchased parts, refer to the third-party website at www.hilscher.com.
Key Features
STM32 connected via SPI to the netX system-on-chip (SoC)
One piece of hardware for all industrial Real-time Ethernet systems
Supports the protocols: PROFINET IRT and RT devices, EtherCAT Slave, Ethernet/IP Adapter, POWERLINK Controlled Node, Sercos III Slave, Modbus /TCP Client/Server
Two RJ45 ports with Real-time Ethernet switch for line and ring topologies
Power supply via Mini-USB connector
Reset button
Boot-mode jumper
netX firmware Flash programming via USB
netX protocol-stack firmware available as free download for evaluation
STM32Cube expansion software available
Expansion Board User Guide and Schematic
Main Features of Kit or Board
Parameter
Value
Base component
STMicroelectronics
Core
ARM966E-S
Category, bit
32-bit
Board peripherals

I/O pins
I2C interface
SPI
USB
Ethernet
JTAG/BDM
Flash
SDRAM
Expansion Board
Other Names:
INUCLEONETX, I NUCLEO NETX
You may have to

register

before you can post comments and get full access to forum.