Worrying About Fraudulent Used Cars Will be a Thing of the Past
Previously owned, or preowned, vehicles offer a lot of benefits that new cars have but have some miles on the odometer, could have some maintenance issues, or even simply cosmetic damage. But you often have no idea where a car came from, how it was used, or even how many times it was used by any number of people. How can you be sure that you are not buying a vehicle that has been in a major accident or that it may have fraudulently altered records?
Currently, Forbes Magazine estimates that odometer fraud costs consumers in the U.S. around $1 billion annually and puts that number at an astonishing $10.6 billion in Europe just from odometer manipulation alone. Lithuanian startup company CarVertical is seeking to change that and put the owner back in the information driver seat and has recently partnered with Volkswagen to assist with development.
Designed to prevent car frauds, the CarVertical VIN decoder website seeks to put all information about a vehicle on the blockchain, which would make the information permanent and unalterable. Owners would have access to all the information available about their vehicle in a decentralized car history registry that would allow them to make decisions based on real and actual data.
By putting the data on the blockchain, it eliminates the need for a governing central third-party to keep track of the amount of data that vehicles can now produce. Essentially, they have almost become computers on wheels with the digitalization of many onboard systems. Blockchain is the fastest and easiest way for the computers to communicate with each other and with people. Owners will be able to use website to track the vehicle's history by the vehicle identification number (VIN).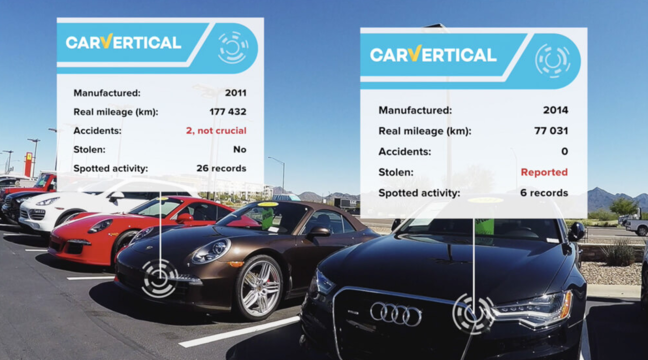 CarVertical gathers as much information as possible about the vehicle's history from different sources, including national and private registries, different databases, and even OBD devices. Consumers will not have to worry that any of the data has been manipulated or faked because carVertical processes and verifies all the data while blockchain confirms the reliability. There cannot be a change in the car's "biography."
Other information that can be attained through the carVertical website:
Check if the vehicle has been registered in the databases of stolen cars
Find out the car's authentic odometer readings at different times
Get an in-depth summary of any accidents or damages to the vehicle
Learn about manufacturing faults or recalls
Read about vehicle's spotted activity and previous prices
View the photo gallery of the vehicle at different periods of time
Analyze vehicle's maintenance log and upcoming services with prices
Figure out where the VIN of a particular model should be located
The benefits of partnering with Volkswagen will allow some of the development team at CarVertical to spend about six months at the Volkswagen Future Mobility incubator in Dresden, Germany. CarVertical will have access to mentors and coaches, high-quality Information Technology infrastructure, contact with VW research and development personnel, and financial and personnel support from the City of Dresden, among other things. They were also awarded a grant worth $17,000 for development.
Connecting more vehicles to benefit owners and users is the partnership deal that CarVertical has also signed with GPSWOX to continue to develop IoT. Car owners would be able to install an IoT device under the steering wheel to begin recording vehicle history in real-time. The information would be relayed to the CarVertical registry, adding to the data already compiled from other sources. The device would be cheap, private, and secure and GPS coordinates would not be streamed to a server but would use the location data internally, like a virtual odometer. There is no third party to deal with to retrieve your data.
This is a huge benefit to owners because insurers charge higher rates due to a lack of information so they have to estimate your costs based on risk. With the IoT device, connected vehicles are able to provide more transparency and data such as acceleration, braking, maintenance, and other user data can be used to determine an individual insurance rate instead of a profile-based cost.
Even more promising news is that CarVertical has also joined the Mobility Open Blockchain Initiative (MOBI) global consortium that aims to speed up the adoption of blockchain technology for the automotive industry. What this means for users and owners is that MOBI is trying to make mobility services more efficient, affordable, greener, safer, and less congested. All of these things translate into more savings for owners and operators. These blockchain technologies have the potential to completely redefine how consumers purchase, insure, and even use vehicles.
Other members of MOBI include four of the world's largest automotive manufacturers, such as BMW, Ford, Renault, and General Motors. The consortium also includes technology companies, public transportation groups, energy companies, insurance firms, and regulatory bodies. Overall, more than 70 percent of the global market share of vehicle production companies are working with MOBI in some capacity.
The landscape of car ownership is about to change with large benefits to owners and operators. Having authentic data to make decisions about insurance, services, and even resell price will allow ultimate transparency in negotiations that will give a buyer an upper hand for once. The days of making a major purchase of vehicle ownership with complete confidence are upon us.